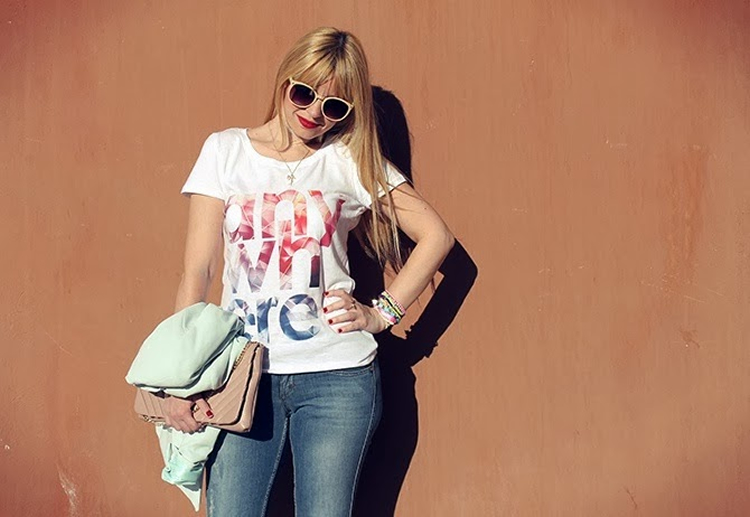 Chissà se Anywhere Italia pensava a questa frase quando ha scelto di creare una linea di t-shirt che rievocano panorami di città lontane, luoghi stupendi sparsi nel mondo che fanno sognare chiunque.
La scelta è anche quella di abbinare posti tra loro distanti su un unico sfondo e su un unica maglietta quasi come voler dire che nessun luogo è impossibile da raggiungere,che il verbo "viaggiare" può avere mille sfaccettature e che ognuno di noi può dargli un significato diverso.
Per il mio outfit ho scelto la t-shirt "Diamanti" con il logo del brand; il cotone è morbidissimo ed i colori tenui regalano quell'aria chic ed elegante, nonostante,a prima vista, possa risultare una t-shirt casual/sportiva.
Adoro la scelta del packaging.Una grande busta da lettera in cartone pronta a partire per raggiungere nuove destinazioni.
Anywhere Italia è totalmente Made in Italy ed è un giovane brand che in poco tempo ha saputo conquistarsi una bella fetta di spazio nel "fashion system" e nel cuore di centinaia di fashion addicts..
"Wherever you go, go with your heart."
I wonder if Anywhere Italia thought of this phrase when he chose to create a line of t-shirts that evoke landscapes of distant cities, wonderful places around the world that make you dream. The choice is also to combine distant places on a unique background and a unique t-shirt  trying to say that nowhere is impossible to achieve, that the verb "travel" may have one thousand facets and that each of us can give you a different meaning. For my outfit I chose the t-shirt "Diamonds" with the logo of the brand, the cotton is soft and muted colors are chic and elegant. I love the choice of packaging. A big envelope cardboard ready to go to reach new destinations. Anywhere Italy is entirely Made in Italy and is a young brand in a short time has earned a space in the "fashion system" and in the hearts of hundreds of fashion addicts .
To choose your favorite t-shirt you have available the official website and Facebook page up to date.
Ho indossato questa t-shirt anche in occasione del contest organizzato dal centro commerciale Euroma 2 che sta ricercando nuovi volti per il suo magazine.
Cliccate sulla foto e mettete mi piace!!