Giorgia and Johns Ethno Chic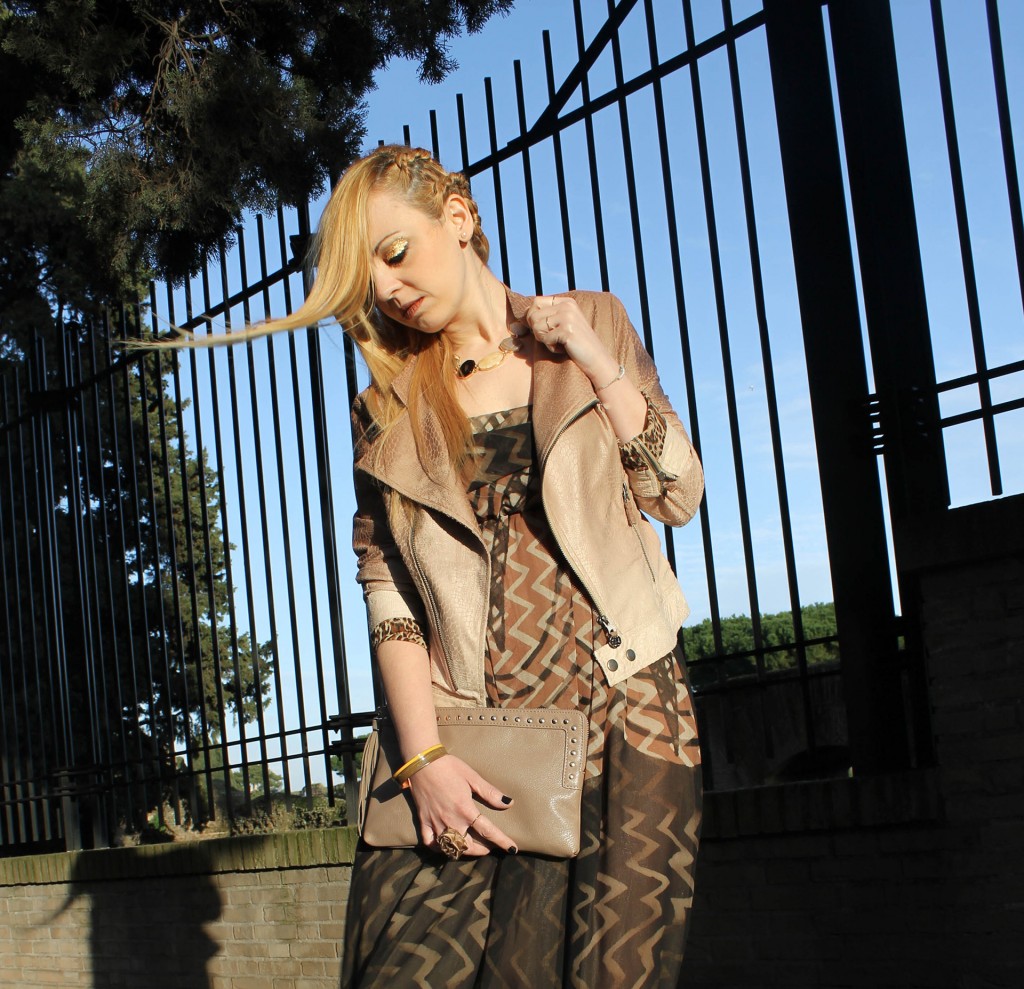 Chi mi segue su Facebook ed Instagram avrà notato che qualche tempo fa avevo postato una foto con scritto "Presto scoprirete che…", lasciando intravedere solo uno  splendido make-up.
Beh, ora con enorme felicità posso svelarvi il progetto a cui ho preso parte.
Giorgia and Johns per il catalogo Spring/Summer 2014, oltre ad aver scelto come testimonial d'eccezione la bellissima Martina Stella, ha selezionato me ed altre fashion blogger per presentare i capi della sua nuova collezione.
Il risultato è stato davvero eccezionale; tutte, con approcci diversi, siamo riuscite ad esprimere e valorizzare a pieno lo stile Giorgia and Johns.
Etnico e colori della terra. Ecco cosa ho scelto per il mio outfit.
Un'abito lungo con geometrie e disegni che ricorda luoghi lontani, una giacca dal taglio audace con interni animalier per un look etno chic che riscopre la magia e l'eleganza del Continente Nero.
Visto il progetto speciale mi sono avvalsa della bravura di Marla Make-up, che ha realizzato pettinatura ed un trucco del tutto particolare facendo risaltare occhi e sguardo con delle foglie d'oro.
Trovate il catalogo Spring/Summer 2014 online sul sito di Giorgia and Johns ed in formato cartaceo in tutti i punti vendita.
Those who follow me on Facebook and Instagram have noticed that some time ago I posted a photo that says " You will soon discover that … ," leaving only a glimpse of a beautiful make-up.
Well, now with great happiness I can reveal to you the project in which I took part. Giorgia & Johns for the catalog Spring / Summer 2014 as well as having chosen as testimonial the beautiful Martina Stella , has selected me and other fashion bloggers for presenting his new collection . The result was truly exceptional, we were able to express and realize the real style Giorgia & Johns. Ethnic and earthy colors. Here's what I chose for my outfit. Siting along with geometries and designs reminiscent of faraway places, a daring cut jacket with internal ethno-chic animal print for a look that rediscovers the magic and elegance of the Black Continent. For the special project I have made ​​use of the skill of Marla Make-up, which has created a hairstyle and make-up to highlighting eyes and look with gold lea .  Find the catalog Spring / Summer 2014 online at Giorgia & Johns site and in printed format in all outlets .
I'M WEARING: