May in white: look casual bianco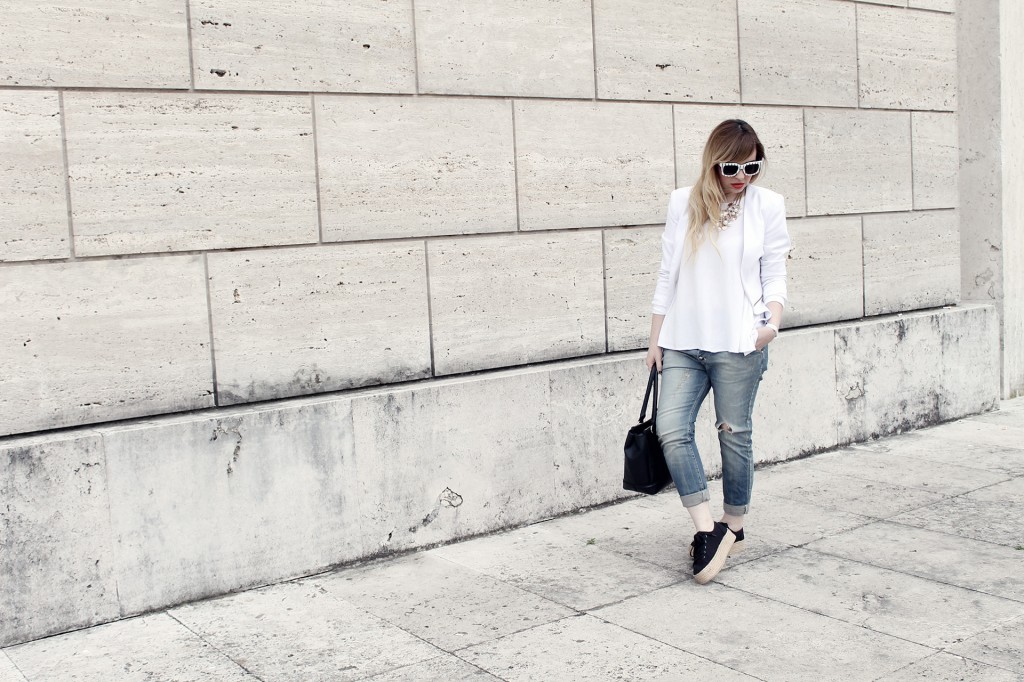 Parola d'ordine: leggerezza.
E aggiungerei anche casual.
Delicato, fresco, minimale o prezioso e vaporoso, il bianco è perfetto per ogni occasione, da quelle sportive a quelle più speciali e invoglia a passeggiate all'aperto, pic-nic, pomeriggi di shopping, aperitivi sul lungo mare, cene romantiche.
Il colore non colore, come ogni estate, è il re assoluto in fatto di tendenze cool.
Certo non è sempre facile saperlo indossare ma con i giusti accessori e stando attente a non strafare, credo che il bianco sia un colore davvero per tutte.
Rispetto al mio scorso outfit total white decisamente più romantico (VEDI QUI!), questo è un look casual bianco reso sportivo dai jeans baggy dall'effetto consumato e dalle sneakers con la zeppa in juta che ultimamente metto tantissimo.
Il bianco trova spazio nel blazer in cotone senza bottoni e con zip dorata in evidenza e nella blouse in filo dal taglio scampanato e le maniche aderenti.
Per gli accessori è stato facile puntare sulla borsa Love Moschino e sugli occhiali stripes dalla nuova collezione Primadonna.
In più al polso ho uno dei bracciali social della nuova linea #Me Nomination. Già vi anticipo che è scattata la caccia per collezionarli tutti…presto ve ne parlerò qui e sui miei profili social Facebook e Instagram.
Vestirsi di bianco è coolness e mostra carattere. Il trucco sta nel conoscere sé stessi ed i propri limiti, valorizzando il look anche con un tocco di colore e vivacità.
Password: lightness. I would also add casual. Delicate, fresh, minimal or precious and fluffy, white is perfect for any occasion, from sports to special one and makes you want to walk in the outdoors, picnic, afternoon shopping, cocktails on the boardwalk, a romantic dinner. The non-color, as every summer, is the absolute king in terms of  coolness. Certainly it is not always easy to know how to wear it but with the right accessories and being careful not to overdo it, I think that white is a color really for all. Compared to my last all-white outfit much more romantic (SEE HERE!), This is a casual look white with baggy jeans and the sneakers worn with the wedge that lately i wear a lot. The white space is in the blazer in cotton without buttons and with zips with golden highlights and wire cut flared blouse and tight sleeves. For accessories, it was easy to focus on the bag Love Moschino and the stripes on the sunglasses from the new collection Primadonna. In addition to wrist bracelets have one of the new line #Me Nomination. Already I anticipate that is taken hunting for collecting them all … soon I'll get here and on my social profiles Facebook and Instagram. Wearing in white is cool and shows character. The trick is to know yourself and your limits, enhancing the look with a touch of color and vibrancy.
I'M WEARING: Blazer Kiabi – Blouse Mia Wish – Jeans Dejamy Jeans – Sneakers Pull&Bear – Bag Love Moschino – Sunglasses Primadonna – Bracelet #Me Nomination – Necklace Bijou Brigitte