Caterina Pervinca: look anni 60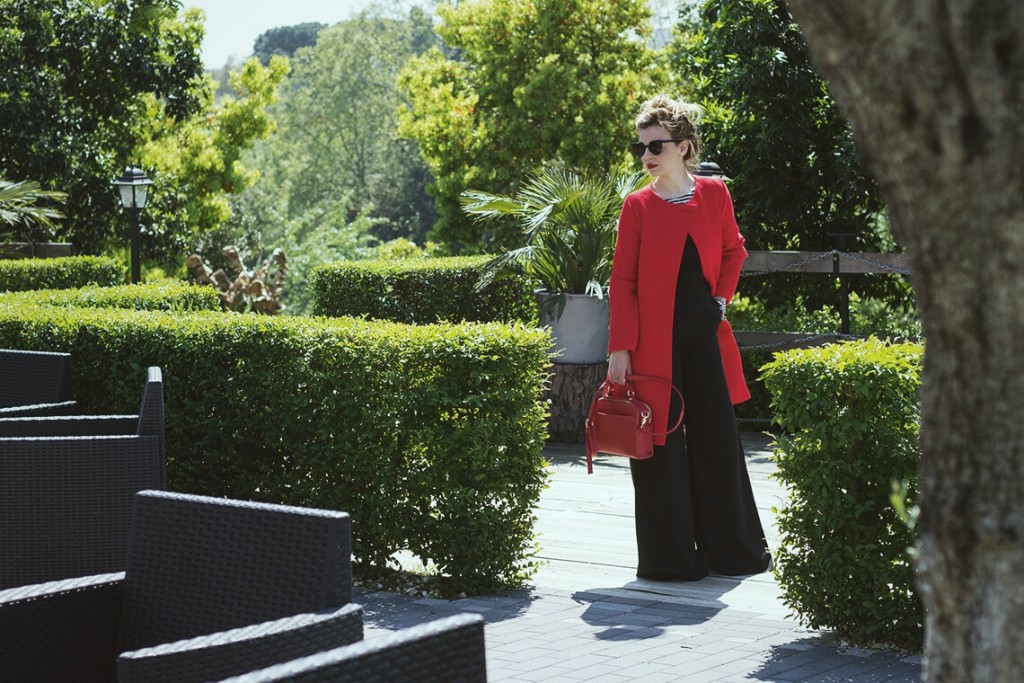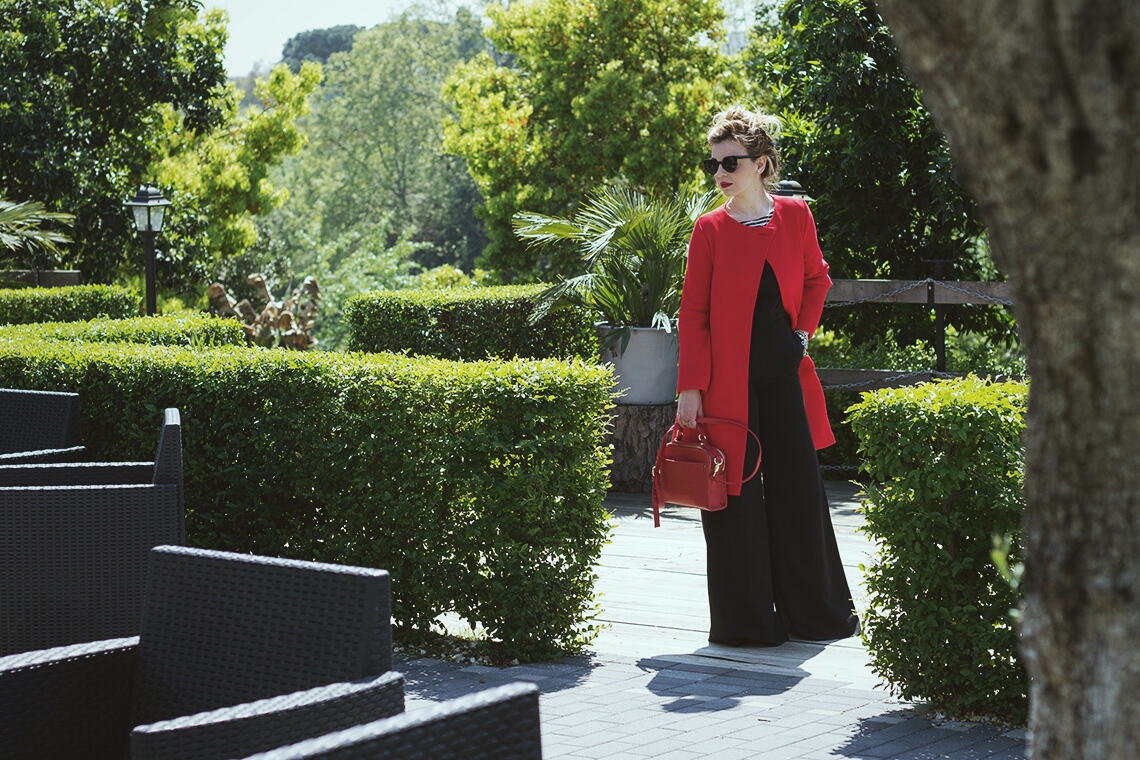 Una location esclusiva, abiti che raccontano una storia, immagini che fermano attimi e portano indietro nel tempo, a quel passato più vicino di quanto si possa pensare. Un look anni 60, una tuta con un cappottino rosso, una giornata di primavera.
La moda degli anni Sessanta era ispirata al movimento hippie e caratterizzata da diversi fattori, la scena musicale, protagonista assoluta del periodo, l'amore per la natura, l'atteggiamento anticonformista, il boom del cinema, che vede in prima linea attrici interpretare ruoli audaci e autentici, indipendenti e femminili, sfrontate e glamour, ruoli che facilmente si riflettono, poi, nella realtà di tutti i giorni.
Caterina Pervinca riesce, con la sua collezione, ad esprimere in maniera ammirevole quegli anni, quel mood spudorato e moderno che mi sono divertita ad interpretare attraverso i suoi abiti.
Caterina Pervinca è una ex bambina a cui una volta, tanto tempo fa, la mamma disse che i suoi occhi non erano dei comuni occhi azzurri, ma erano degli occhi blu pervinca e da allora non è riuscita più a staccarsi da quella parola, tanto che ne ha fatto il suo marchio di fabbrica. E' una bambina che ha sempre amato i vestiti e i tessuti e che guardava con uno sguardo pieno di desiderio gli armadi della mamma e della nonna, una bambina che studiava con curiosità gli abiti indossati dalle attrici dei vecchi film che i suoi genitori vedevano in televisione e che sognava un giorno, da grande, di potersi vestire come i suoi idoli.
Caterina Pervinca ora e' cresciuta e, diventata ormai una donna, rende reali gli abiti sognati per lungo tempo, la sua è una moda ultra femminile, una moda che ci fa sentire belle, femminili, forti e libere, una moda che serve non a piacere agli altri, agli uomini, alle altre donne, alla società, quanto piuttosto a se stesse.

La collezione, totalmente Made in Italy e ideata da lei, è ispirata ad un film dei primi anni 60, Bell Book and Candle, con Kim Novak e James Stuart. Kim Novak in quel film è una strega che vive a Manhattan ed ha un gatto di nome Cagliostro. I capi prendono ispirazione dai meravigliosi vestiti indossati da Kim Novak, la location cambia diventando Roma, mentre il retrogusto vintage rimane intatto.
Le linee tipiche degli abiti e dei look anni 60 rivivono attraverso la tuta ed il cappottino rosso firmati Caterina Pervinca; mi sono calata anch'io, in qualche modo, nel ruolo di una strega che vive le sue giornate nella città eterna, un look che racchiude magia e mistero, eleganza e sicurezza. Gli angoli retro del ristorante Cantieri Marconi Waterfront si sono rivelati essere perfetti per il mio outfit, mi hanno resa un'autentica ragazza degli anni Sessanta, che sa attirare l'attenzione su di se e strizza l'occhio qualora ce ne fosse bisogno.
An exclusive location, dresses that tell a story, images that stop moments and bring back in time, to the nearer past than you might think. A 60's look, a jumpsuit with a red coat, a spring day. The fashion of the Sixties was inspired by the hippie movement and characterized by several factors, the musical scene, the absolute protagonist of the period, love for nature, the nonconformist attitude, the boom of cinema, which sees in the forefront actresses interpret roles bold and authentic, independent and feminine, brazen and glamorous, roles that can easily be reflected in everyday reality. Caterina Pervinca succeeds, with her collection, in an admirable way of expressing those years, that shameless and modern mood that I enjoyed playing through her dresses. Caterina Pervinca is an ex-child who once, long ago, her mom said that her eyes were not common blue eyes, but they were blue pervinca eyes and since then she was no longer able to get away from that word, so much so It has made its trademark. She is a little girl who has always loved her clothes and fabrics, and she stared at her mother and grandmother's wardrobe, a little girl studying with curiosity about the clothes worn by the actresses of old movies her parents watched on television And she dreamed one day, great, that she could dress like her idols. Caterina Pervinca has grown and now becomes a woman, she realizes the clothes she dreams for a long time, her is an ultra-feminine fashion, a fashion that makes us feel beautiful, feminine, strong and free, a fashion that does not serve pleasure to others, to men, to other women, to society, rather than to oneself. The collection, entirely made in Italy and conceived by her, is inspired by a film from the early 60's, Bell Book and Candle, with Kim Novak and James Stuart. Kim Novak in that movie is a witch who lives in Manhattan and has a cat named Cagliostro. The dresses take inspiration from Kim Novak's fabulous clothes, the location changes to become Rome, while the vintage aftertaste remains intact. The typical lines of the 60's outfits and look revolve through the suit and the red coat of signed by Caterina Pervinca; I also feel, in some ways, as a witch who lives her days in the eternal city, a look that contains magic and mystery, elegance and security. The back corners of the Cantieri Marconi Waterfront restaurant have turned out to be perfect for my outfits, making me an authentic girl of the 1960s, who knows how to draw attention to herself and shake the eye whenever it needs it.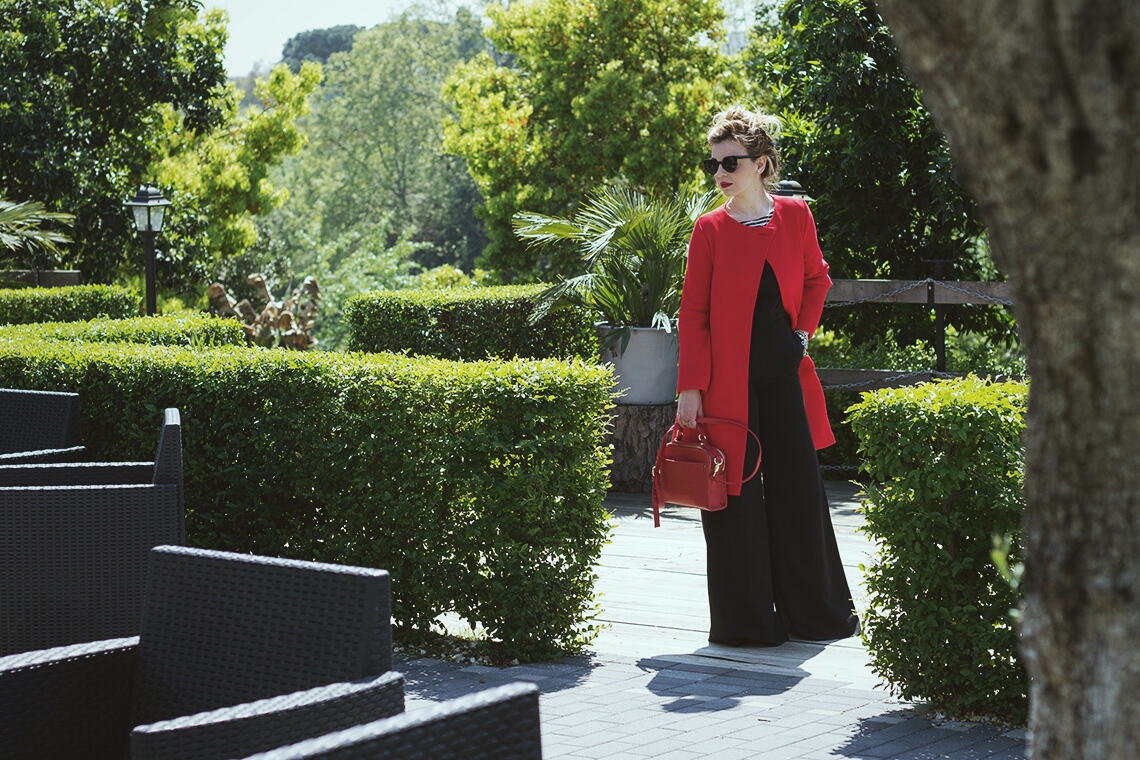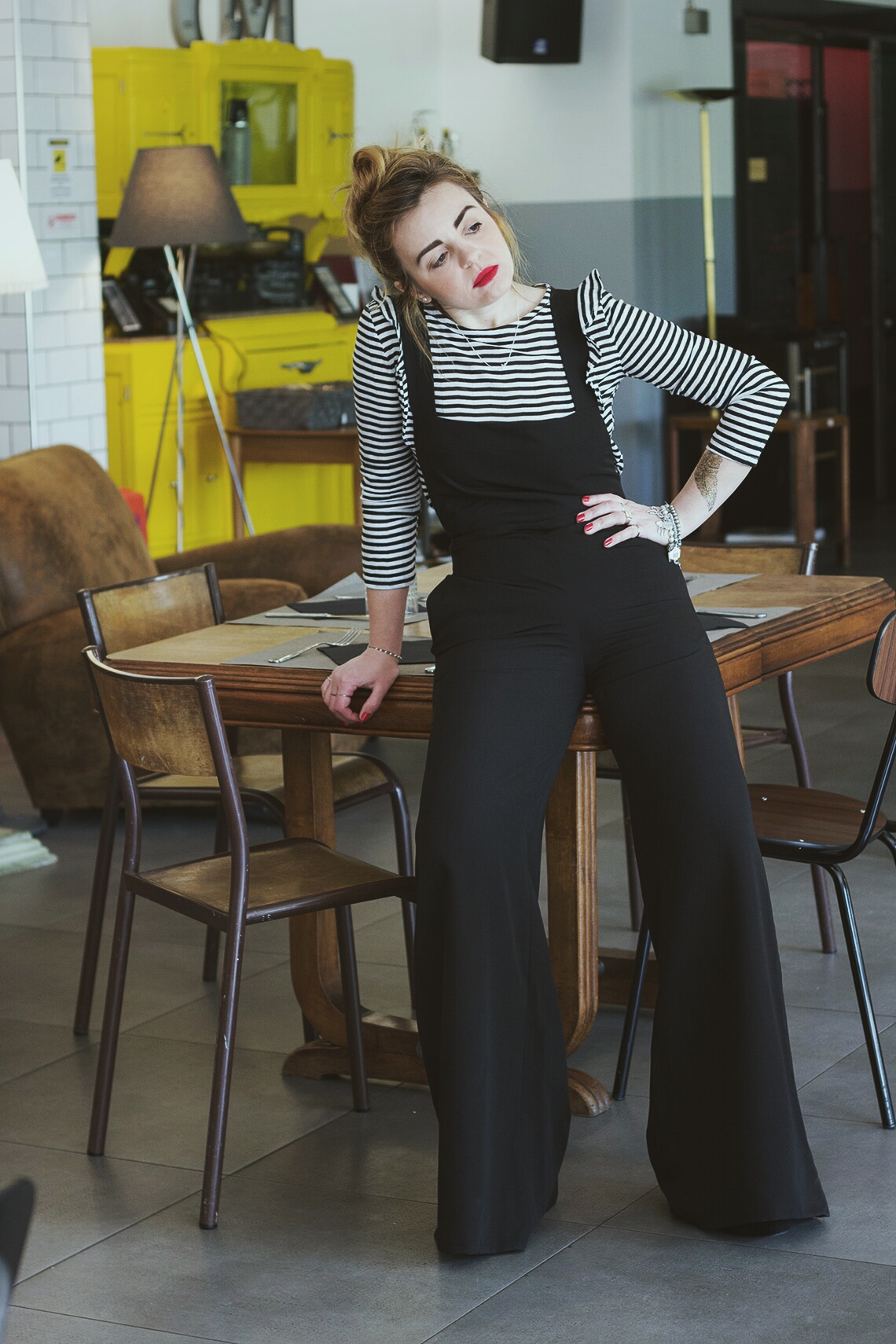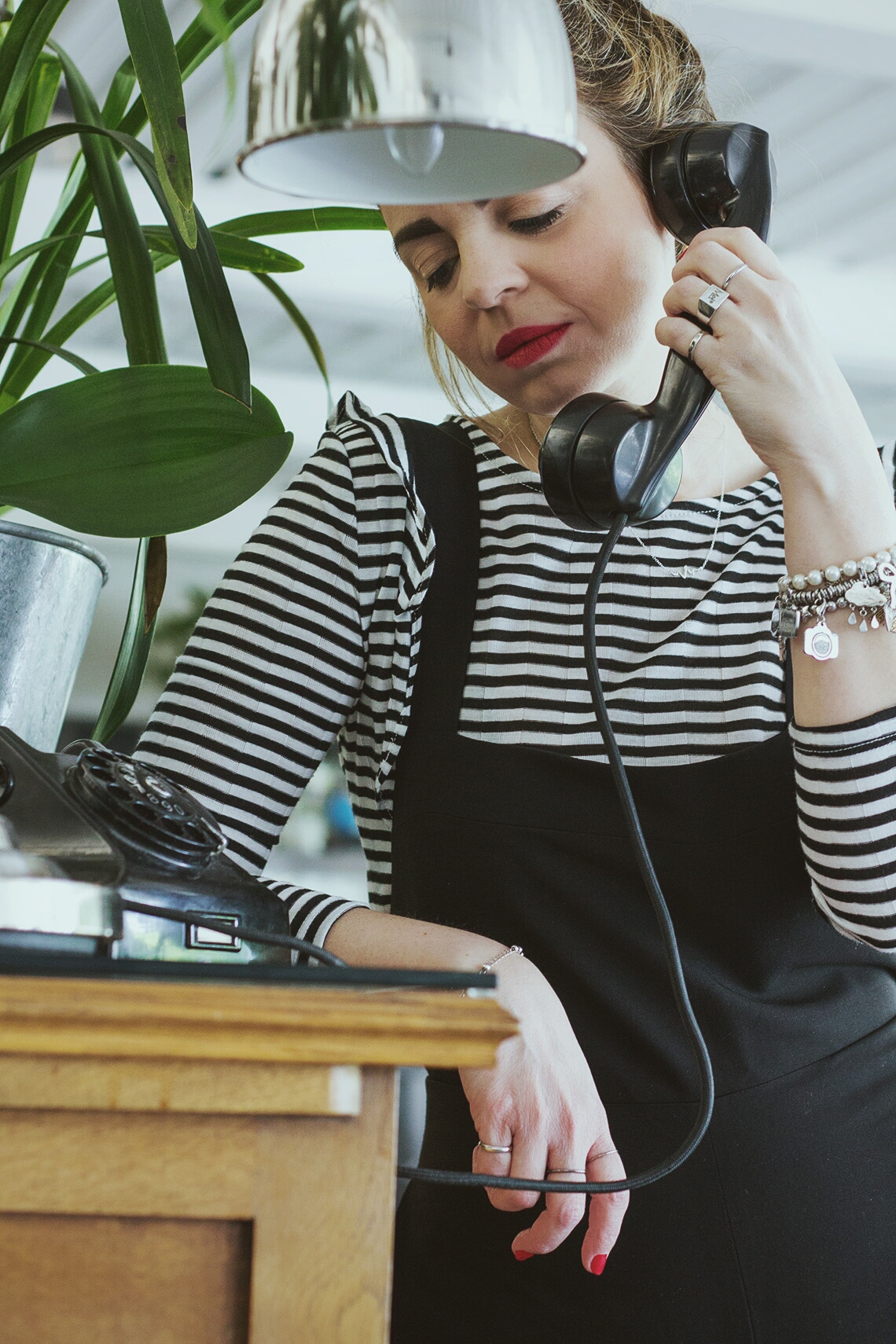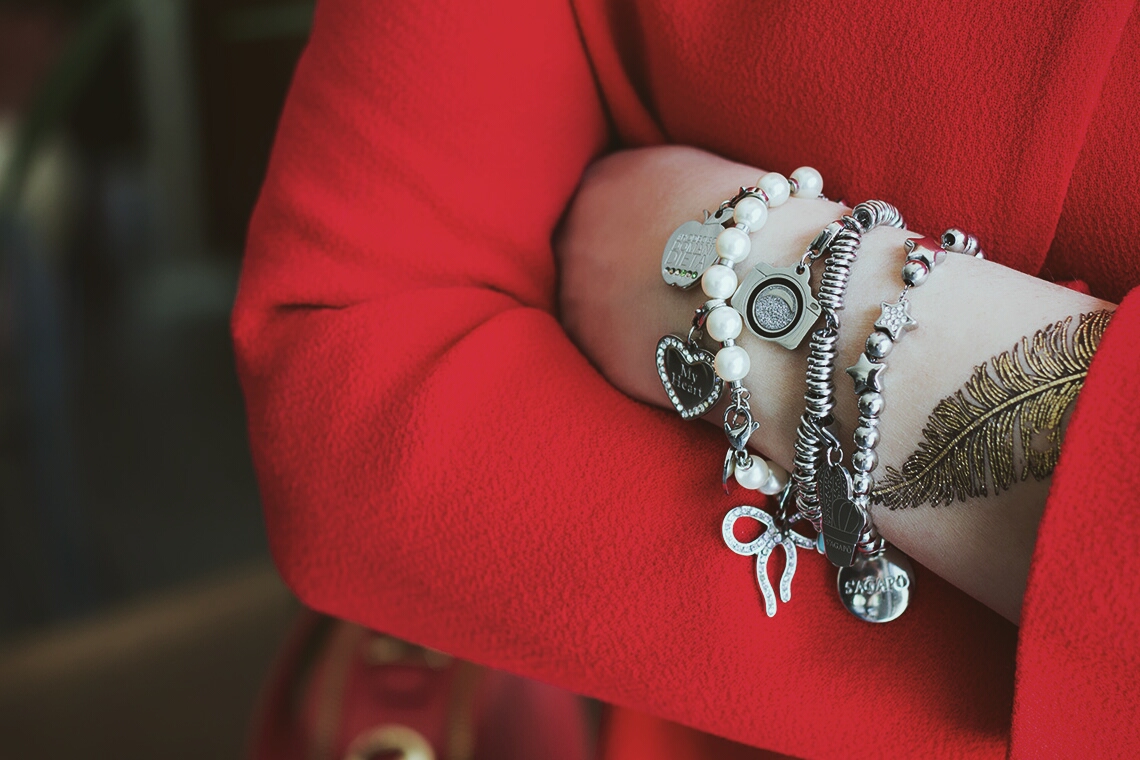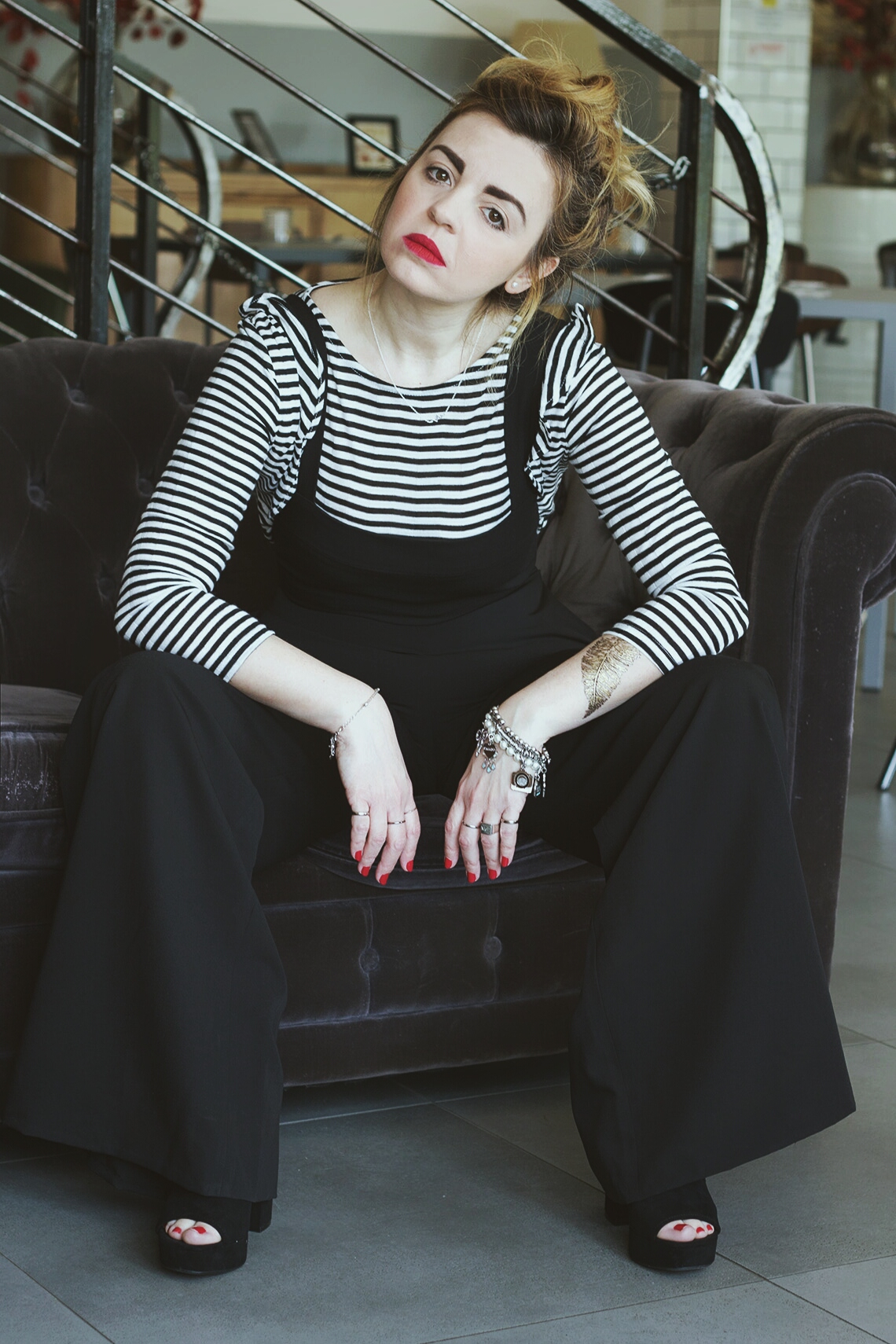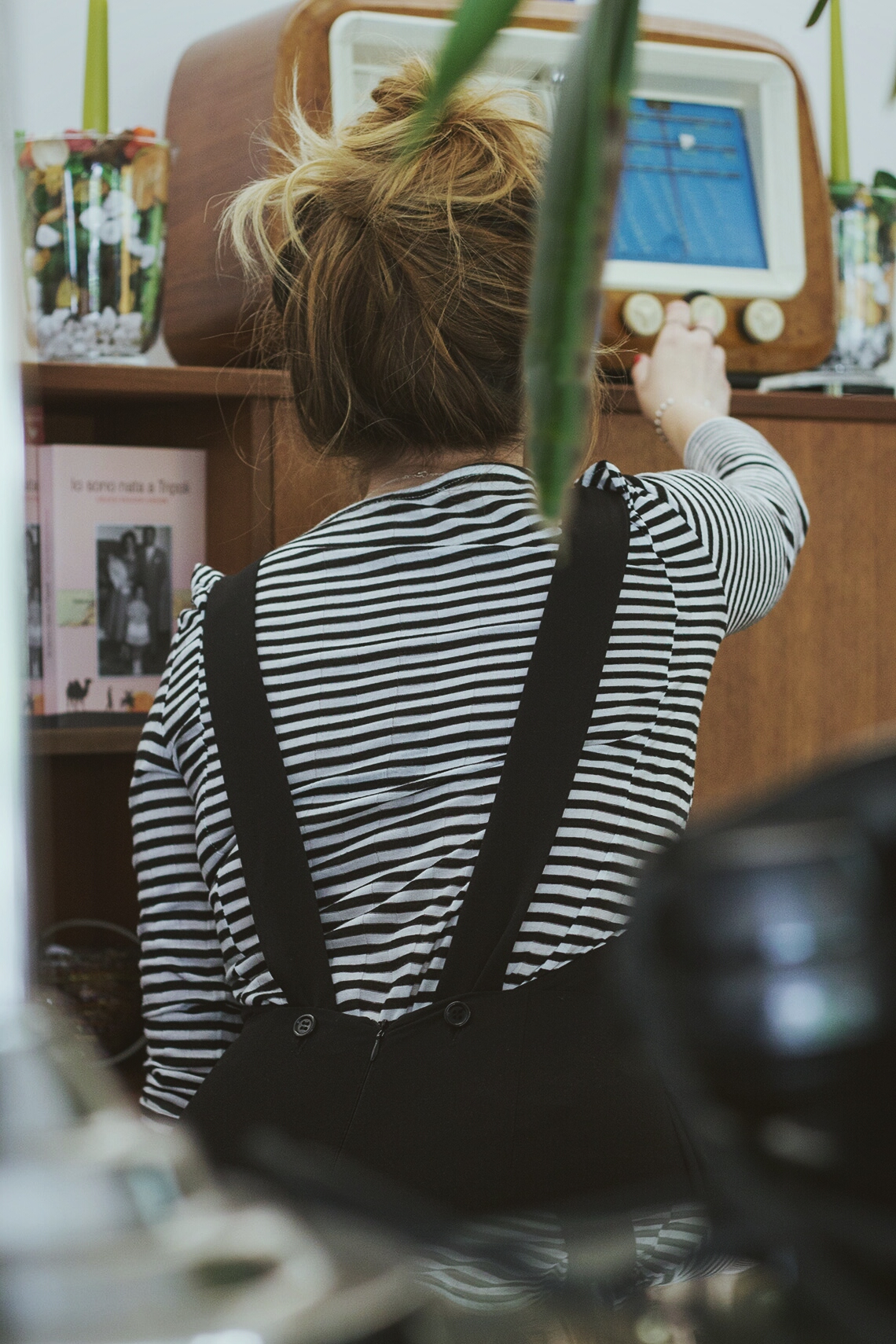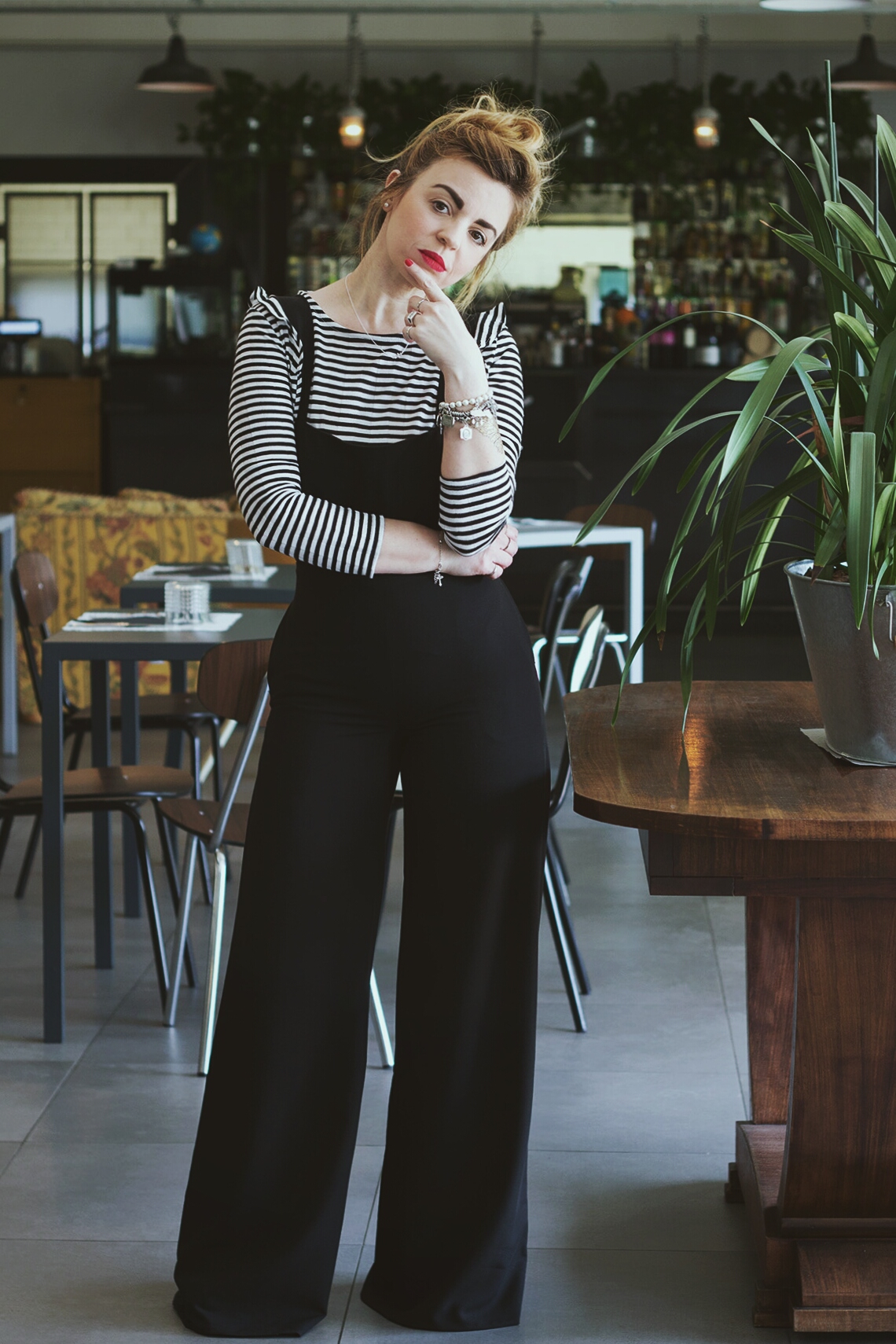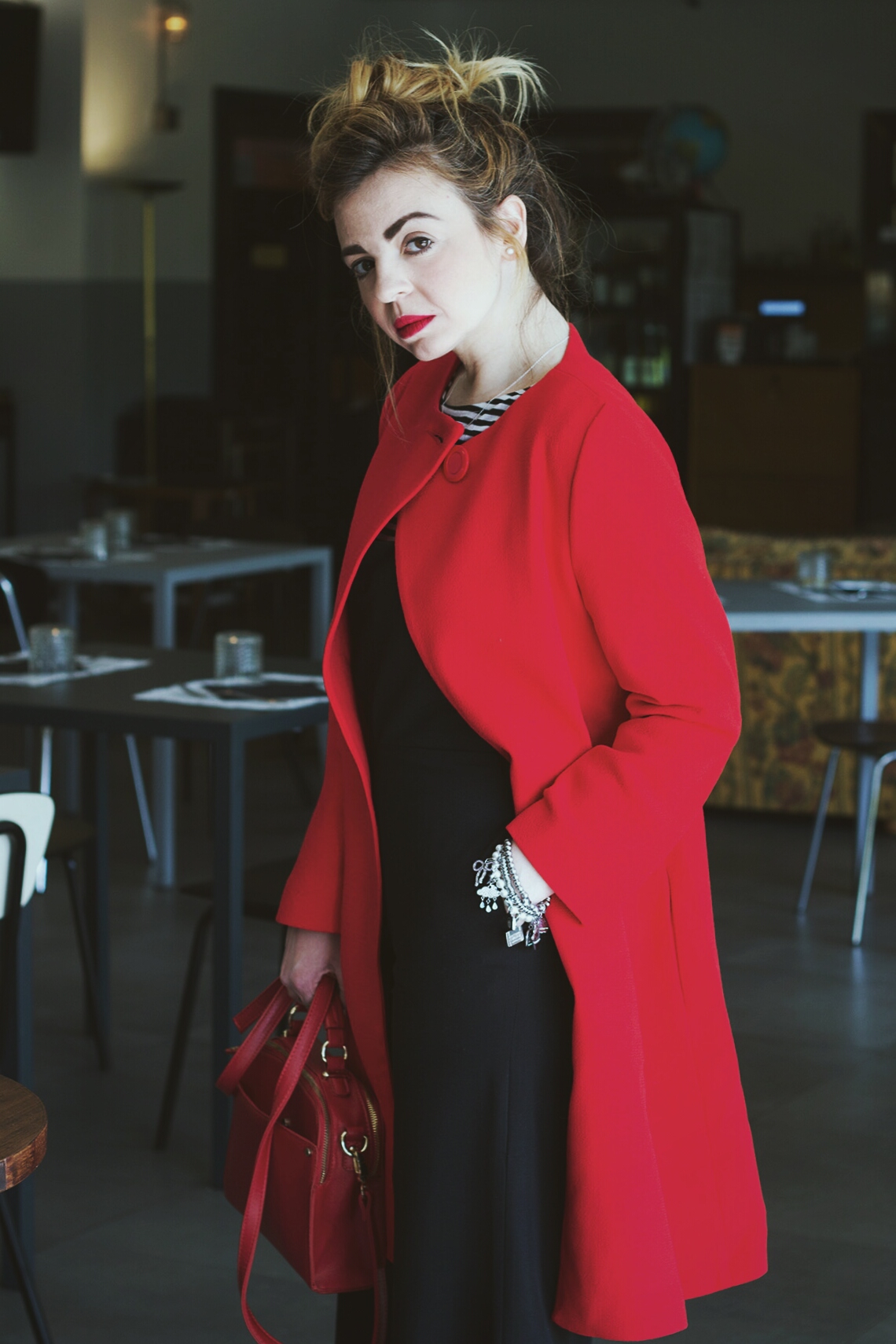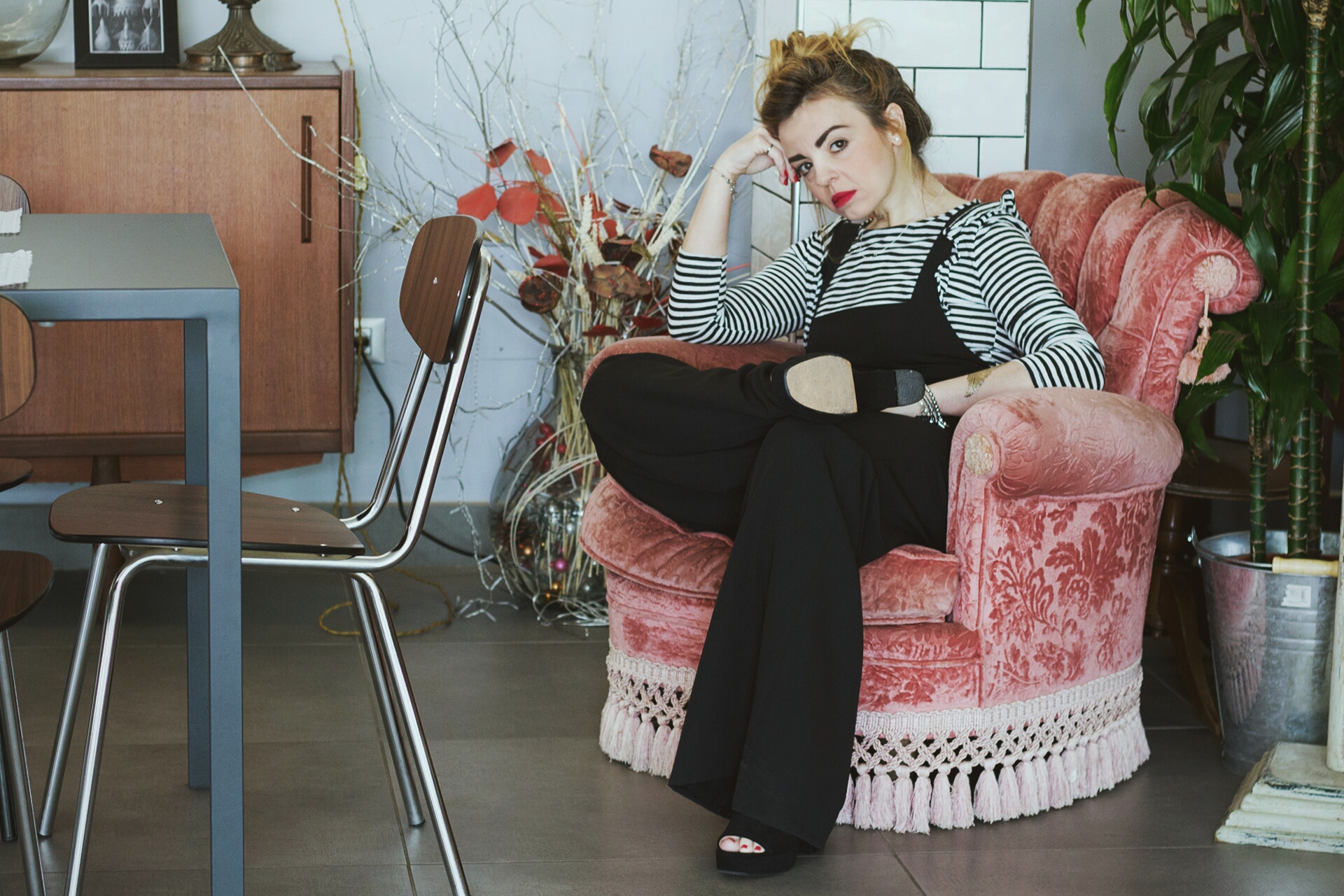 I'M WEARING: Total Look Caterina Pervinca – Jewels S'Agapõ
Thanks to CANTIERI MARCONI WATERFRONT