Come abbinare lo zaino per un look da giorno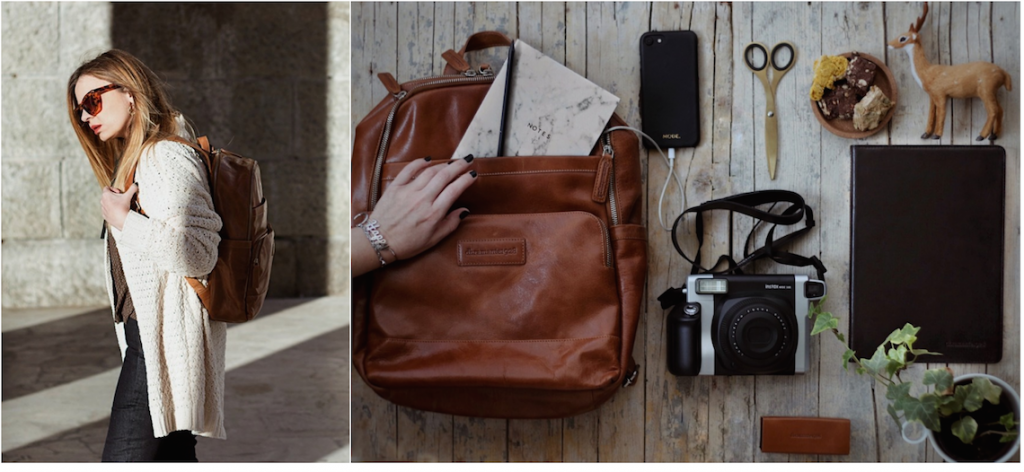 Da piccola pensavo che l'oggetto protagonista di questo nuovo post fosse totalmente inutile, ingombrante, antiestetico e per nulla femminile. Crescendo e maturando ho imparato ad apprezzarne le qualità, lo stile e sopratutto l'efficenza. Sto parlando dello zaino. Proviamo a non pensare a quest'accessorio esclusivamente come quello che da ragazzina indossavamo per andare a scuola, già da qualche anno, infatti, lo zaino è diventato di tendenza e super desiderato da tutte le fashion addicted. Spesso il problema sorge quando non sappiamo in che modo inserirlo nel nostro outfit ma capire come abbinare lo zaino, sopratutto in un look da giorno, può rivelarsi davvero semplice.
Lo zaino, per certi aspetti, sembra aver messo in ombra la borsa innanzitutto per ampiezza e comodità ma anche perchè, se scelto con gusto e criterio, diventa un pezzo davvero iconico del nostro guardaroba. Non so voi, ma io quando esco, che sia per un'appuntamento, per un evento o per semplice piacere, son capace di trasportarmi dietro mezza casa; tra macchina fotografica, telefono, powerbank, make-up, crema mani, bottiglietta d'acqua, portafogli e documenti è un vero delirio e spesso la borsa non basta, quindi, già da qualche tempo, preferisco lo zaino agli spazi stretti e credetemi, uno zaino in pelle è più di quanto attuale e stiloso ci sia in fatto di borse.
La scorsa estate ho conosciuto il brand dbramante1928, mi è piaciuto talmente tanto che i loro borsoni hanno accompagnato i miei weekend fuori porta con Food Gang Italia e alcuni brevi viaggi estivi. Ne sono rimasta così affascinata per qualità e storia che ho scelto anche uno dei loro zaini in pelle per le mie numerose giornate "full". Con il suo design moderno, leggero ma resistente e multi-funzionale offre interni spaziosi a più scomparti, tra cui un'area imbottita per proteggere il PC o il Macbook. dbramante1928 produce prodotti in pelle rispettando i valori fondamentali di resistenza, durata, funzionalità e stile, progettati in Danimarca, sono realizzati a mano da abili artigiani, utilizzando i migliori materiali e solo pelle indiana.
Come abbinare lo zaino per un look da giorno o per il lavoro? Facile, io l'ho accostato ad un jeans a zampa, di gran tendenza, ad una camicetta con collo alla coreana e linea discreta ed elegante, ad un maxi cardigan di lana grossa e a dei gioielli semplici ma d'effetto. Il risultato è un look minimal chic professionale e di moda e se il freddo aumenta dallo zaino possiamo sempre tirar fuori una morbida e calda mantella che ci accompagni fino a sera.
As a child I thought that the main protagonist of this new post was totally useless, cumbersome, unsightly and not feminine. Growing up and maturing I learned to appreciate its qualities, style and above all efficiency. I'm talking about the backpack. Let's try not to think about this accessory exclusively as the one we used to go to school, in fact, the backpack has become trendy and super desired by all the fashion addicted. Often the problem arises when we do not know how to insert it into our outfit but understanding how to combine the backpack, especially in a daytime look, can be very simple. The backpack seems to have overshadowed the bag for space and comfort, but also because, if chosen with taste and criterion, it becomes a truly iconic piece of our wardrobe. I do not know about you, but when I go out,  for an appointment,  for an event or for simple pleasure, I am able to carry around half of my house; between camera, phone, powerbank, make-up, hand cream, bottle of water, wallet and documents is a real delusion when the bag is not enough big, so, for some occasions, I prefer the backpack and believe me, a leather backpack is more than current and stylish in terms of bags. Last summer I met the brand dbramante1928, I liked it so much that their bags have accompanied my weekends away with Food Gang Italia and some short summer trips. I was so fascinated by his quality and his history that I also chose one of their leather backpacks for my many "full" days. With its modern design, lightweight but durable and multi-functional, it offers spacious interiors with multiple compartments, including a padded area to protect your PC or Macbook. dbramante1928 create leather products respecting the fundamental values ​​of strength, durability, functionality and style, designed in Denmark, are handcrafted by skilled artisans, using the best materials and only Indian leather. How to combine the backpack for a daytime look or for work? Easy, I have combined it with a trendy flared jeans, a blouse with a Korean collar and a discreet and elegant line, a maxi cardigan in coarse wool and simple but effective jewels. The result is a minimalist professional and fashion chic look and if the cold increases from the backpack we can always bring out a soft and warm cape that will accompanies us until the evening.
I'M WEARING: Total look Giorgia&Johns – Jewels S'Agapõ – Backpack dbramante1928