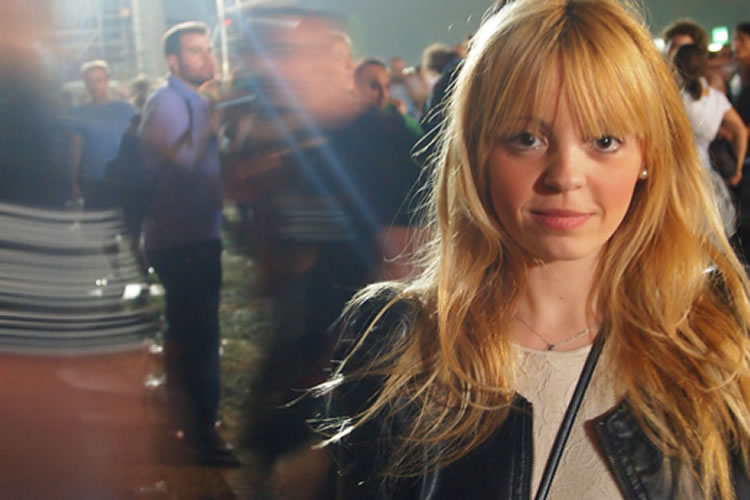 Per la questura 25.000, per gli organizzatori 34.000, per me solo un mare di teste che separavano me da Thom Yorke. Prima data in Italia per i Radiohead all' Ippodromo delle Capannelle (scenario dell'ormai famoso festival estivo Rock in Roma) ed io posso ritenermi una dei fortunati che ha potuto assistere a questo spettacolo senza precedenti dove la band inglese ci ha estasiato con musica, suoni e colori perfettamente sincronizzati.
Emozionata per questo evento, ho scelto un look che univa un abito beige di merletto Pull&Bear ad un giacchetto di pelle nera e a degli stivali stile bikers decisamente "rock". Come accessori ho indossato un anello con la forma di un gufo di Bijou Brigitte, uno spesso bracciale H&M e una borsetta nera con borchie sempre H&M.
Terminato il concerto per recuperare un po' di energia mi sono recata dal tipico paninaro romano per degustare il panozzo con salciccia e maionese e ho messo su un chilo al primo morso.
Spero che questo senso di appagamento resista fino al prossimo capolavoro live di Thom Yorke & soci.

25,000 for the police, 34,000 for the organizers 34,000, for myself a sea of ​​heads that separated me from Thom Yorke. First date in Italy for Radiohead and I can consider myself one of the lucky ones who was able to attend this unprecedented show where the British band has entranced with music, sounds and colors perfectly sicronized. Excited for this event, I chose a look that united a beige dress with lace Pull & Bear with a black leather jacket and black bikers boots that are so "rock". For accessories I wore a ring with the shape of an owl Bijou Brigitte, a thick bracelet H & M and a black handbag with studs. At the end of the concert to recover a bit of energy I went from the typical roman paninaro to taste the panozzo with sausage and mayonnaise and put on a pound at the first bite. I hope that this sense of fulfillment hang in there until next live masterpiece of Thom Yorke & Associates.


Radiohead Show Effects