Gold Sin Jewels: il gioiello che non pesa e non si muove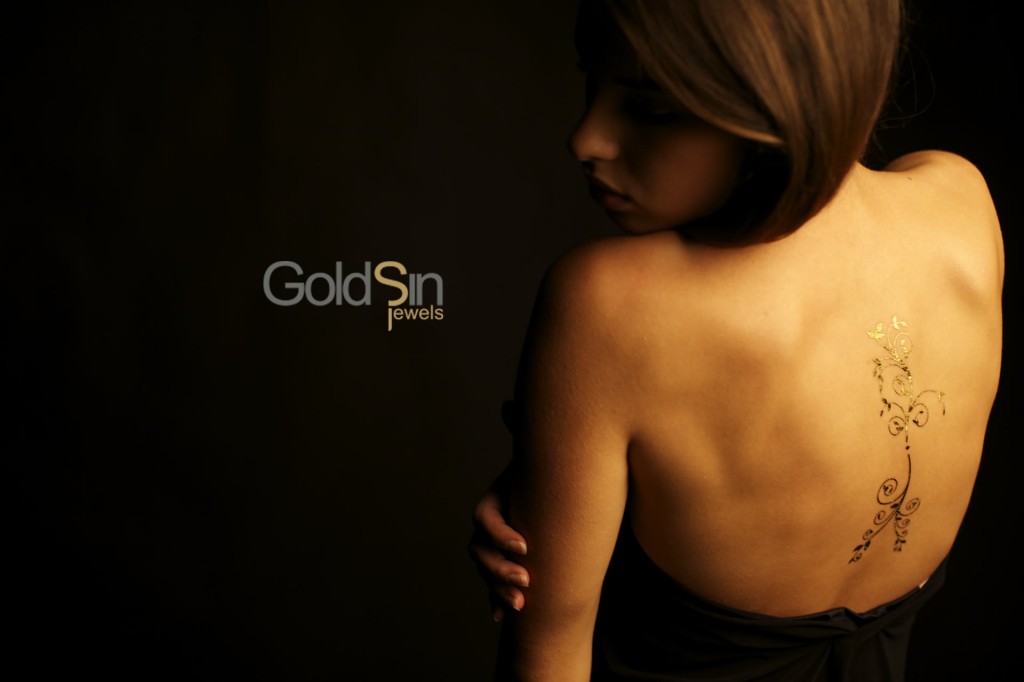 L'estate che arriva, la voglia di scoprirsi e mostrare il corpo non solo con abiti leggeri che scivolino addosso ma anche con pochi ed importanti accessori che valorizzino qualsiasi tipo di look.
Per i prossimi mesi mettete da parte i vostri gioielli e fate spazio a Gold Sin Jewel.
Io li ho scoperti qualche giorno fa dal mio coiffeur di fiducia, Team Max Parrucchieri.
Incuriosita dal packaging originale ed accattivante il mio parrucchiere mi ha subito proposto di provare la bellezza di questi raffinati tatuaggi temporanei destinati ad essere la vera tendenza di questa estate 2014.
Gli Skin Jewels sono tattoo gioiello temporanei creati per adornare le forme del nostro corpo e per non passare mai inosservate; frutto del genio e della creatività italiana dell'azienda Genefinity di San Dorligo della Valle sono interamente prodotti in Italia, nella sede di Trieste.
L'oro 24k, l'argento 999 e il componente adesivo (usato anche in ambito biomedicale) sono le fondamenta dei Gold Sin Jewel, completamente sicuri e anallergici: anche le pelli più delicate infatti possono indossare uno Skin Jewel.
La semplice applicazione che ricorda i trasferelli usa e getta dei bimbi renderà il nostro corpo unico e prezioso.
Diverse sono le linee, i disegni ed i mood da scegliere:
Thousand
Tatuaggi da "Le mille e Una Notte"; rose del deserto,foglie arabeggianti e petali di stelle. È la collezione più amata dalle sognatrici.
Flower
Perfetti per la schiena, ma danno un effetto notevole anche sulle mani. Il fiore rappresenta naturalezza e nella variante dorata ne simboleggia l'eterna grazia.
Macramè
Adatta alle più svariate occasioni, per creare look ricercati contiene in sé la raffinatezza dei ricami della tradizione italiana ed europea, per evocare leggerezza e seduzione in tutte le donne.
Fairy Butterfly
Farfalle che si posano leggere sulla pelle fra polvere di stelle e cuori, per chi ama l'atmosfera incantata delle favole.
Gli Skin Jewels sono una lussuosa alternativa ai soliti gioielli, per decorare il proprio corpo, che per questa estate non potete proprio lasciarvi sfuggire. Adatti ad ogni genere di occasione per rendere chic qualsiasi tipo di outfit. Prezzi accessibili a tutte per un risultato davvero unico ed originale.
A Roma trovate Gold Sin Jewel nel salone di Massimo Del Duca, Team Max Parrucchieri e se non siete di zona potete contattarlo anche online attraverso il suo sito o su Facebook.
Per maggiori info visitate il sito Gold Sin Jewel.
The summer comes, the desire to discover and show the body not only light clothes but also with a few and important accessories that enhance any look. For the next few months, put aside your jewelry and make room for Gold Sin Jewel. I few days ago I discovered from my trusted hairdresser, Team Max Parrucchieri. Intrigued by the original packaging i tried the exquisite beauty of these temporary tattoos intended to be the real trend this summer 2014. The Skin Jewels are temporary tattoo jewelry to adorn the forms of our body and never go unnoticed; fruit of the genius and creativity of Italian company Genefinity Dolina are entirely manufactured in Italy, the headquarters of Trieste. The 24k gold, 999 silver and component adhesive (also used in the biomedical field) are the foundation of the Gold Sin Jewel, completely safe and non-allergenic: even the most sensitive skin can in fact wear a Skin Jewel. The simple application that remembers the disposable transfer sheets of the children will make our body unique and precious.There are several lines, designs and moods to choose from:
Thousand
Tattoos from "The Thousand and One Nights" desert roses, leaves and petals Arabian stars. Has the most comprehensive collection loved by dreamers.
Flower
Perfect for the back, but also give a remarkable effect on the hands. The flower is natural and variant golden symbolizes the eternal grace.
Macramè
Suitable for a variety of occasions, sought to create looks in itself contains the refinement of the embroidery of Italian and European tradition, to evoke lightness and seduction in all women.
Fairy Butterfly
Butterflies that are placed on the skin between light dust of stars and hearts, for those who love the enchanting atmosphere of fairy tales.
The Skin Jewels are a luxurious alternative to the usual jewelry to decorate your body, this summer you can not just be missed. Suitable for any kind of occasion to make any kind of chic outfits. Affordable to all for a truly unique and original.
In Rome Gold Sin Jewel can be found by Massimo Del Duca, Team Max Parrucchieri and if you're not in the area you can also contact them online through its website or on Facebook.
For more info visit the Gold Sin Jewel.