What's your Mood? #Urban Mudra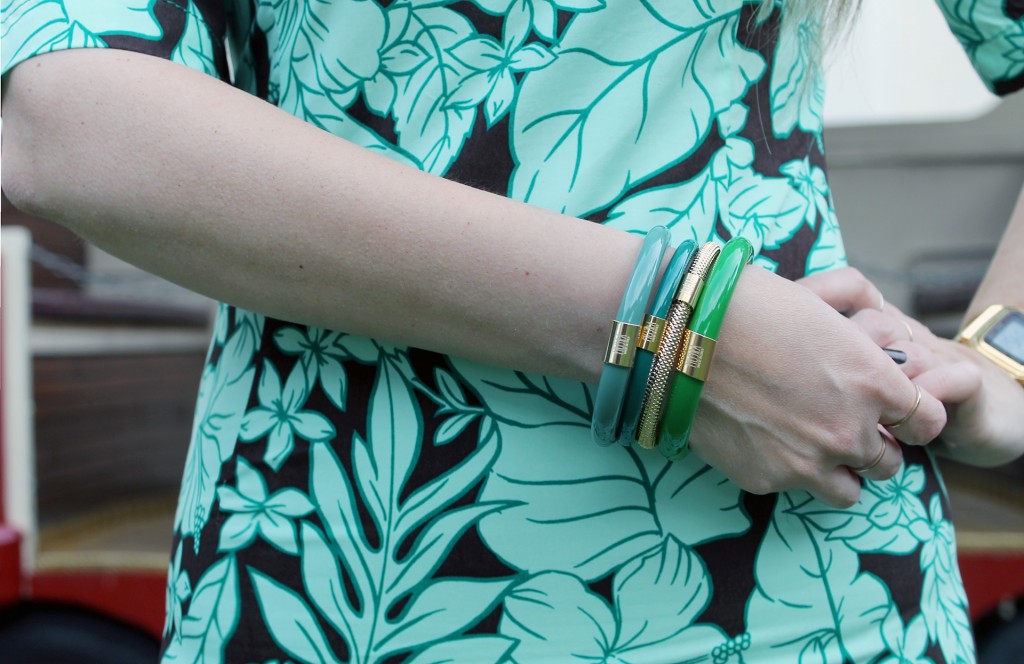 La sensualità dell'India e la freschezza estiva delle stampe floreali e tropicali nella scelta del nuovo look.
Gli abbinamenti, i colori e gli accessori sono fondamentali per far sì che un outifit riesca ad esprimere alla perfezione uno stato d'animo, il cosidetto "mood".
Lo sa bene Mudra, azienda italiana, creatrice di bangles d'ispirazione indiana.
Il nome si rifà al linguaggio simbolico delle mani in un'antica danza asiatica dove eleganza e sensualità sono saldamente unite.
Lavorati a mano, realizzati con smalto a fuoco ed impreziositi dall'originale sigillo in ottone dorato, i bangles Mudra esprimono mood positivi e ogni nuance riflette uno stile ed una una personalità:
Chic, Sweet, Aristocratic, Urban, Happy, Sexy, Stylish, Crazy.
Per il mio look ho scelto il mood Urban con tre diverse tonalità di verde che vanno dal tiffany allo smeraldo al brillante a cui ho abbinato un total look Zara; un abito con stampa floreale, bauletto marrone, occhiali e sandali rasoterra in tinta con la borsa.
E tu di che mood sei?
Non rimane altro che scoprirlo !
The sensuality of India and the summer  freshness of tropical floral prints in this new look. The combinations, colors and accessories are vital to ensure that a outifit can express a mood. This is know well by Mudra, an Italian company, maker of Indian-inspired bangles. The name refers to the symbolic language of the hands in an ancient Asian dance where elegance and sensuality are firmly united. Handmade, made with baked enamel and embellished with original seal in gilt brass the Mudra bangles express positive mood and every nuance reflects a style and a personality: Chic, Sweet, Aristocratic, Urban, Happy, Sexy, Stylish, Crazy. For my look I chose the mood Urban with three different shades of green ranging from emerald to tiffany brilliant that I matched with a total look Zara; a dress with floral print, brown trunk, sunglasses and flat sandals to match the bag.
And you, what mood are you?
Nothing remains but to find out!
I'M WEARING
Total look Zara
Bangles Mudra Gioielli