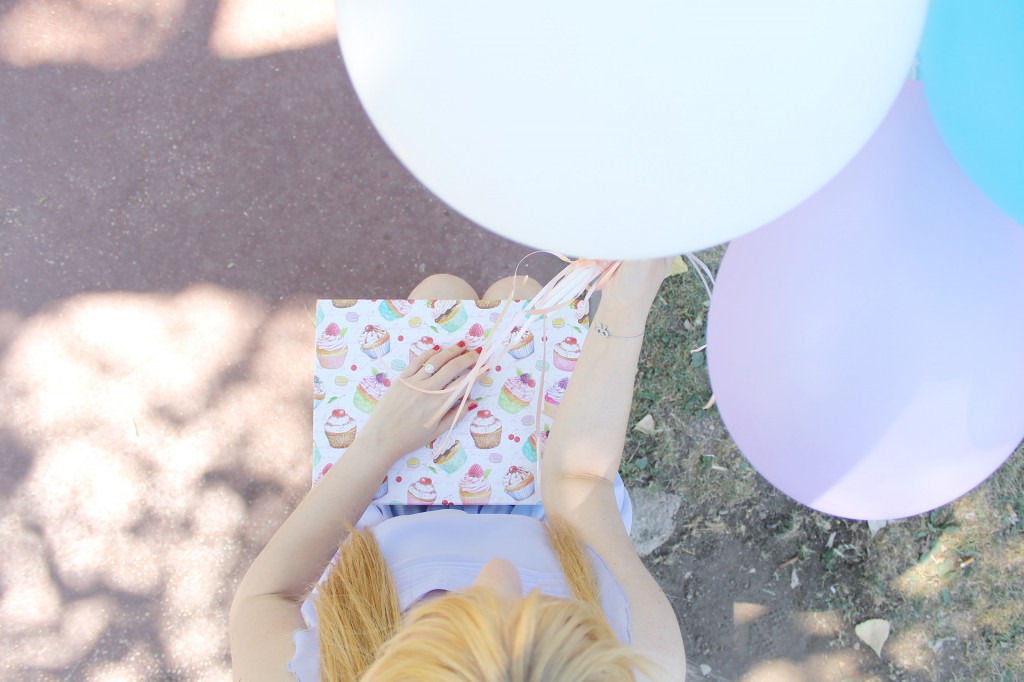 Agosto, mese spensierato di scuole chiuse e di ferie dal lavoro, di vacanze e di ozio desiderato, è il mio personale Dicembre, dove stacco la spina, faccio resoconti, rifletto sull'anno trascorso e festeggio il mio compleanno.
Di solito tendo a chiudermi sempre un pó a riccio durante questo periodo (sarà per gli anni che passano e la vecchiaia che avanza!!), ma questa volta mi sto impegnando perché sia diverso.
Leggerezza, tanta positività e fiducia in ciò che sarà; a testimoniarlo gli scatti che ho deciso di regalarmi per il mio compleanno.
Palloncini, una scatola e un abitino romantico come piace a me.
Cose e simboli che in fondo mi rappresentano; il mio vivere "fuori dal mondo", con la testa fra le nuvole alla ricerca costante di nuove esperienze, proprio come la vita di un palloncino quando scegli di lasciarlo volare via.
Sorprese, che spero la vita mi riservi; pacchi da scartare zeppi di novità, di desideri e di sorrisi sinceri.
Ed infine la frivolezza, che da sempre mi accompagna e che cerco di rappresentare con il mio amore per la moda.
Il color glicine, ruches appena accennate un fiocco di raso in vita e delle eleganti ballerine in tutù alle orecchie che evidenziano la mia passione fatta di semplicità e discrezione "in punta di piedi" .
Stavolta auguro a me stessa solo tanta serenità e tempo per poterla coltivare.
Happy MelBday!!
"Non ti auguro un dono qualsiasi,
Ti auguro soltanto quello che i più non hanno.
Ti auguro tempo, per divertirti e per ridere;
se lo impiegherai bene, potrai ricavarne qualcosa.
Ti auguro tempo, per il tuo Fare e il tuo Pensare,
non solo per te stesso, ma anche per donarlo agli altri.
Ti auguro tempo, non per affrettarti e correre,
ma tempo per essere contento.
Ti auguro tempo, non soltanto per trascorrerlo,
ti auguro tempo perchè te ne resti:
tempo per stupirti e tempo per fidarti
e non soltanto per guardarlo sull'orologio.
Ti auguro tempo per toccare le stelle
e tempo per crescere, per maturare.
Ti auguro tempo, per sperare nuovamente e per amare.
Non ha più senso rimandare.
Ti auguro tempo per trovare te stesso,
per vivere ogni tuo giorno, ogni tua ora come un dono.
Ti auguro tempo anche per perdonare.
Ti auguro di avere tempo,
tempo per la vita."
August, a month of closed schools and off work, holiday and leisure desired, it is my personal december, where i detachment the plug, I do reports, I reflect on the past year and celebrate my birthday. Usually I tend to shut me like a clam during this time (it will be for the passing years and the old age advancing!!), but this time I am working to make it different. Lightweight, lots of positivity and confidence in what will be; to prove that I shoots these phots that I have decided to give me for my birthday. Balloons, a box and a romantic dress, just like me. Objects and symbols that represent me; my life "out of this world", with my head in the clouds constantly looking for new experiences, just as the life of a balloon when you choose to let it fly away. Surprises, which I hope my life reserves; parcels unwrapped full of novelty, desires and sincere smiles. And finally, the frivolity, which always accompanies me, and that I try to represent in my love for fashion. The lavender color, ruffles just mentioned, a satin bow at the waist and elegant ballerinas with tutus at my ears showing my love of simplicity and discretion "on tiptoe".
This time I wish myself only so much serenity and time to be able to grow.
Happy MelBday !!
I'M WEARING
Dress Zara
Shoes Violavinca (già in Questo
Outfit!)
Earrings Tutù Gioielli