A Promod outfit for your come back to city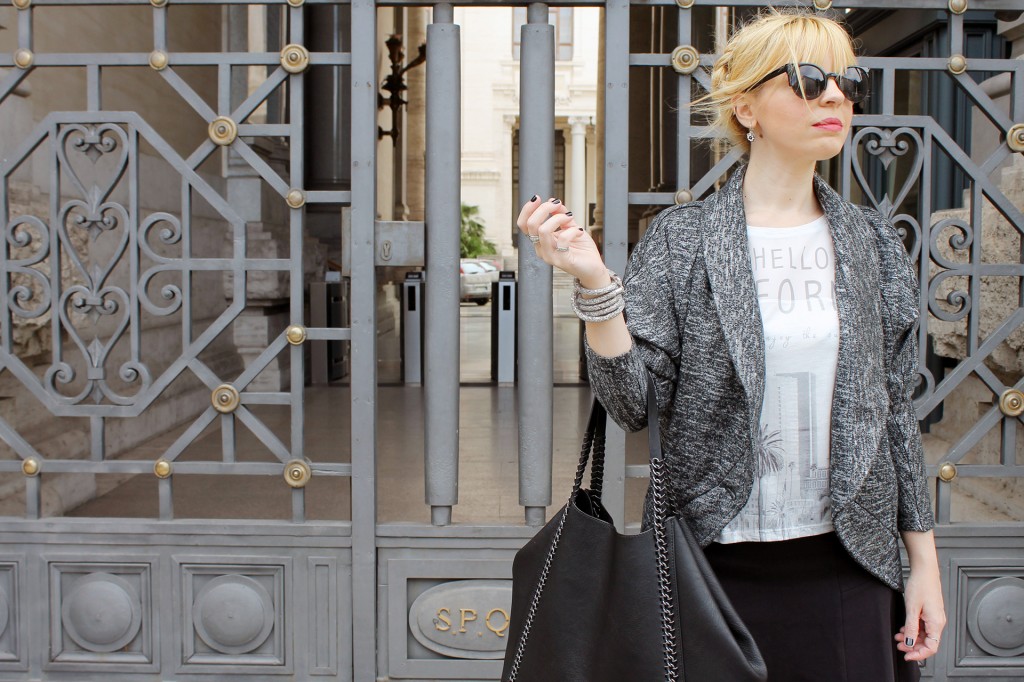 Vacanze finite per tante di noi, ritorni ai tram tram quotidiani ed alla vita movimentata tra lavoro ed impegni vari.
Se il morale é a terra e gli unici pensieri vanno a spiagge dorate e pelle profumata di crema abbronzante almeno consoliamoci pensando a ciò che indosseremo nelle prossime settimane, facendolo sempre con eleganza e originalità.
Promod, ad esempio, lo fa coccolandoci con una promozione davvero interessante ed imperdibile.
Se si acquistano 2 articoli, in negozio o sul Sito,  di cui una parte alta e una bassa si ha diritto al 20% di sconto sul meno caro tra i due.
Io ho scelto uno dei look che saranno in evidenza nelle prossime settimane e devo ammettere che me ne sono innamorata all'istante appena l'ho visto in vetrina.
Il capospalla in maglia mélange è un incrocio tra una giacca e un maglione con il fondo dritto più lungo dietro.
Destinazione California per la tshirt che ci  riporta, piacevolmente, uno scorcio di spiaggia californiana a cui ho abbinato una minigonna  svasata nera versatile e sbarazzina.
Punta aperta, lacci incrociati e tacco alto per le  scarpe in cuoio, come vuole il trend di stagione e, per completare il total look, la maxi borsa comoda e pratica con catenelle in decorazione per muovermi con estrema sicurezza e per essere fashion come piace a me.
Inoltre approfittando di questa iniziativa Promod ha creato per le proprie clienti due hashtag: #promodselfie e #lookrientro che potrete utilizzare nei vostri selfie sui social che preferite. Io corro a postare il mio look, vi aspetto!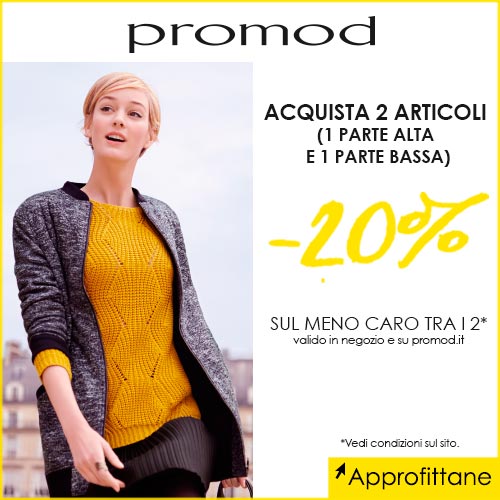 Holidays are over for many of us, you return to the daily hustle and hectic life between work and various commitments.
If morale is on the floor and the only thoughts go out to the golden beaches and leather-scented suntan lotion at least cheer up ourselves thinking about what we wear in the coming weeks, always with elegance and originality.
Promod , for example, it does cuddling us with a promotion really interesting and unforgettable. If you buy 2 items, in store or on the Site, part of which high and low, you are entitled to 20% discount on the cheapest of the two.
I chose one of the looks that will be featured in the coming weeks and I must admit that I fell in love instantly as soon as I saw it in the shop window.
The outerwear in jersey melange is a cross between a jacket and a sweater with a straight hem longer in the back. California destination for the tshirt that brings us back, pleasantly, a glimpse of a California beach when I paired a black mini-skirt flared versatile and saucy.
Open toe, crossed laces and a high heel shoe in leather, as dictated by the trends of the season and, to complete the total look, the maxi bag comfortable and practical to move with extreme safety and to be fashion as i like. Also taking advantage of this initiative Promod has created for its clients two hashtag: #promodselfie and #lookrientro that you can use in your selfie on social. I'm running to post my look, I'll wait you!