J'adore la mode: outfit autunnale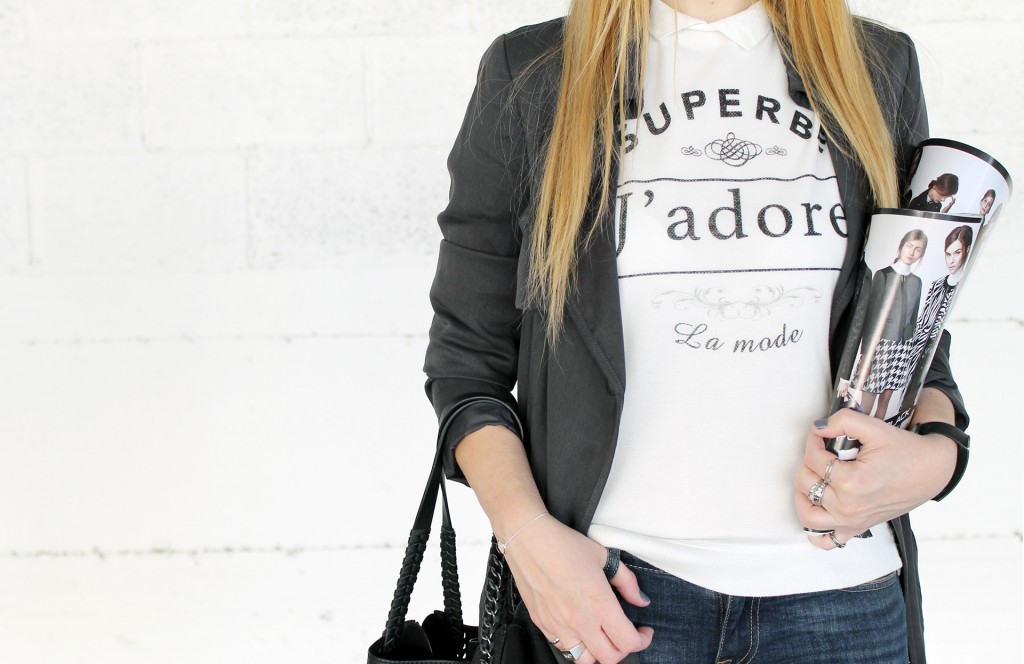 Voci del fashion system dicono che uno dei colori di tendenza di questo autunno e del prossimo inverno sia il grigio.
Declinato in tutte le tonalita ammetto che il grigio è uno dei miei colori preferiti; mi piace abbinarlo in diversi modi ma con il bianco ed il nero lo adoro.
Ecco perché ho scelto il trench morbido color  antracite di Promod per la mia giornata in centro; lungo, fluido, curato nel taglio, nei dettagli e super femminile.
"J'adore la mode" cita la maglia, sempre Promod, che non potevo lasciarmi scappare e che parla per me rappresentandomi al meglio.
In tessuto a nido d'ape ultra fine con maniche 3/4 velate ed un piccolo colletto, tipo polo, dona un aria ricercata e stilosa.
Jeans skinny strappati, sandali con tacco comodo,borsa ampia e occhiali sa diva completano il mio look metropolitano perfetto per districarmi facilmente tra vari impegni.
Un perfetto outfit autunnale per attraversare la città con stile e glamour.
Voices from the fashion industry say that one of the trendy colors this fall and next winter is gray. Declined in all shades the gray is one of my favorite colors; I like to combine it in different ways but i love it with the black and white. That's why I chose the trench anthracite by Promod for my day in the center; long, smooth, superior cut, detailed and super feminine. "J'adore la mode" cites the shirt, always Promod, that I could not miss and that represent me at best. With honeycomb tissue ultra fine with 3/4 sleeves veiled and a small collar gives it a stylish and sophisticated air. Ripped skinny jeans, comfortable heeled sandals, wide bag and diva glasses knows how to complete my look perfect for metropolitan extricate easily between various commitments. A perfect autumn outfit to cross the city with style and glamour.
I'M WEARING
Trench Promod
Blouse Promod
Bag Promod
Jeans Zara
Shoes Pull&Bear
Sunglasses Tiger Store