Return to the past: outfit autunnale con salopette di velluto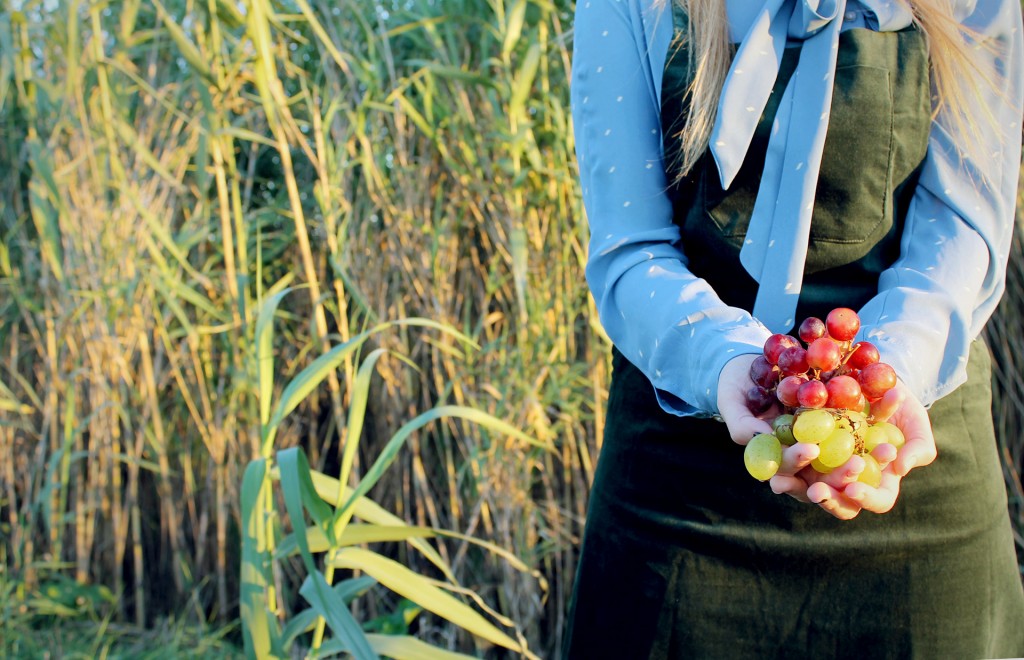 "Un tempo, era d'estate,
era a quel fuoco, a quegli ardori,
che si destava la mia fantasia.
Inclino adesso all'autunno
dal colore che inebria;
amo la stanca stagione
che ha già vendemmiato.
Niente più mi somiglia,
nulla più mi consola,
di quest'aria che odora
di mosto e di vino
di questo vecchio sole ottobrino
che splende nelle vigne saccheggiate."
Ottobre si conclude in maniera pacata, come una giornata che volge al termine, come un ancora caldo tramonto autunnale con i suoi colori e le sue luci che sembrano riflettersi in me.
Ma anche con i suoi odori…quelli dell'uva e quelli di una campagna silenziosa che cambia come cambiano le stagioni.
Io che sembro tornare indietro nel tempo, tuffandomi in una salopette di velluto verde smeraldo, in una camicia bon ton che ha i toni del cielo, nelle calze vinaccia che da bambina odiavo per il colore austero, nei mocassini bordeaux da maschiaccio con le frange e nel basco di lana di due misure più grandi ma che, inconsapevolmente, regala più calore.
Un outfit autunnale che ricorda quelli creati da mia mamma per me quando ero piccola.
Un look che senza volere mi riporta a delicati ricordi d'infanzia, al pensiero delle cose semplici alle dolci sensazioni come possono essere un buon profumo ed un caldo abbraccio.
October ends calmly, as a day that draws to a close, more like a warm autumn sunset, with its colors and lights that appear to be reflected in me. But even with its smells… smells of those grapes and of a quiet campaign that will change as the seasons change. I look like I stepped back in time, diving in an emerald velvet dungarees, a shirt etiquette that has shades of the sky, with burgundy socks, a color i hates when i was child for his austerity, burgundy loafers with fringe and a wool beret two sizes larger but that unwittingly gives more heat. An autumn outfits reminiscent of those created by my mom for me when I was little. A look that unwittingly brings me back to childhood memories delicate at the thought of simple things like the sweet sensations like a good scent and a warm embrace.
I'M WEARING
Salopette Zara
Shirt Zara
Shoes Pull&Bear
Hat Giorgia&Johns