Capo passepartout: la camicia azzurra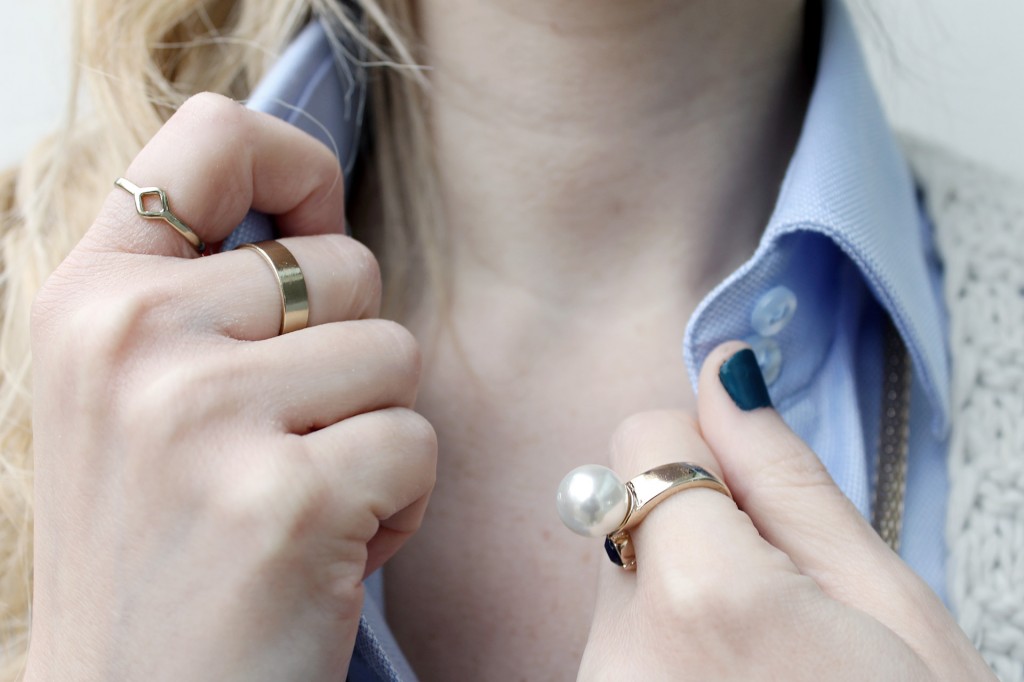 Se c'è un capo passe-partout per eccellenza quello è sicuramente la camicia azzurra.
Nata come capo d'abbigliamento maschile, nel corso degli anni ha saputo farsi strada negli armadi di tutte le donne. Semplice e versatile si indossa con quasi tutto ed è perfetta per passare con disinvoltura da un outfit da giorno ad uno da sera, cambiando magari soltanto accessori e scarpe.
Per la mia camicia azzurra di Nara Camicie, dal classico taglio maschile e definita in ogni particolare, ho scelto degli abbinamenti che la rendessero chic, sofisticata e adatta ad una passeggiata pomeridiana.
Gonna blu a tubo in eco pelle, un cardigan di lana grossa caldo e avvolgente, che sostituisce il cappotto, e gioielli in oro, blu e perle.
Camicia azzurra quindi non solo per l'ufficio, dove solitamente è indossata in maniera più formale ma anche per altre occasioni; il suo essere un vero e proprio "evergreen" lo rende un capo di sicuro successo per tanti dei nostri look.
Dalle foto avete notato qualcosa di diverso?
Ho cambiato colore ai miei capelli rendendoli più caldi e adatti alla mia carnagione ed al mio stile.
Presto vi parlerò dell'artefice di questo cambiamento che mi ha soddisfatto davvero tanto.
If there is a head master key to excellence certainly is the blue shirt. Created as a men's garment, over the years has been able to make inroads in the closets of all women. Simple, versatile and is worn with almost everything and is perfect to pass with ease from a dayly outfit to an evening one, perhaps just changing accessories and shoes. For my blue shirt Nara Camicie, with classic male cut and defined in every detail, I have chosen matches that could make it chic, sophisticated and suitable for an afternoon walk. Pencil skirt in eco leather, a thick wool cardigan warm and enveloping that replace the coat and jewelry in gold, blue and pearl. Blue shirt so not only for the office, where is usually worn in a more formal way but also for many other occasions; his being a real "evergreen" makes it successful for so many of our look.
From the photos you noticed something different?
I changed my hair color to make them warmer and fit my skin and my style. Soon I will speak  about the maker of this change that has pleased me very much.
I'M WEARING: Shirt Nara Camicie -Sweater Stradivarius -Skirt Stradivarius -Shoes Tata Italia -Bag Elisabetta Franchi -Necklace Accessorize -Rings Stradivarius -Watch Daniel Wellington