Look retrò e una camicia con le rouches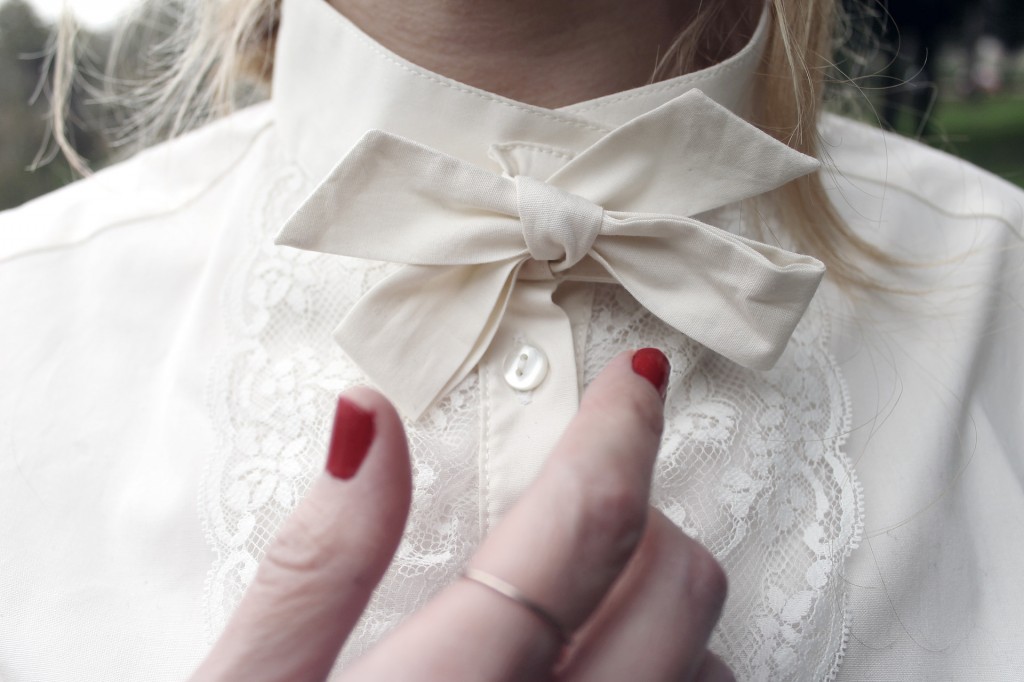 Pomeriggi grigi e nebbiosi come quelli di febbraio non sempre danno stimolo per indossare abiti eleganti e dal tocco glamour, ma visto che volevo sfruttare al meglio le trecce scomposte che Valerio Moggiani di Informale Hair Salon and Products  (ve ne ho parlato QUI! e ve ne parlerò ancora!) aveva realizzato sui miei capelli, mi sono regalata un look retrò con un pizzico di bon ton. Look retrò e una camicia con le rouches color panna, tanto desiderata e scelta dalla collezione invernale di Nara Camicie; il dettaglio che colpisce l'occhio, oltre le rouches, é il delizioso fiocchetto posizionato sul colletto alla coreana che dona un'aria sofisticata e vagamente vintage. Alla camicia ho abbinato la gonna a ruota color cammello (che già ho indossato per QUESTO LOOK!) e il cappottino nero svasato a doppiopetto di Max&Co. Ho atteso, ma finalmente ho trovato un look adatto per la borsa Love Moschino regalatami dal mio fidanzato lo scorso Natale; la adoro ed ogni volta che esce con me sto attenta che non urti da nessuna parte per quanto ci tengo…sto diventando una donna troppo apprensiva! Outfit vezzosi e dal gusto retrò come questo mi fanno sentire sempre a mio agio; riescono a rendermi languida e chic quanto basta senza esagerare.
Gray and foggy afternoons like those of February do not always give stimulus to wear elegant dresses and glamorous touch, but since I wanted to valorize the braids that Valerio Moggiani from Informale Hair Salon and Products (I write about him HERE! And I will write again!) had made on my hair, I donated a retro look with a bit of etiquette. Retro look and a shirt with ruffles, much desired and chosen by the winter collection of Nara Camicie; the detail that affects the eye, beyond the ruffles, is the lovely bow placed on the collar that gives an air of sophistication and vaguely vintage. I paired the shirt with the camel skirt (which I have already worn for THIS LOOK!) and the double-breasted black coat by Max & Co. I waited, but I finally found a suitable look for the bag Love Moschino given to me by my boyfriend last Christmas; I love it and every time you come out with me, I'm careful to not hit anywhere as far as I care … I'm becoming a woman too apprehensive! Outfits whimsical and retro taste like this always make me feel at ease; I can make me languid and chic enough without exaggeration.
I'M WEARING: Coat Max&Co.– Shirt Nara Camicie– Skirt Zara– Shoes Cinti– Bag Love Moschino– Earrings Accessorize