Spring inspiration: nuances di primavera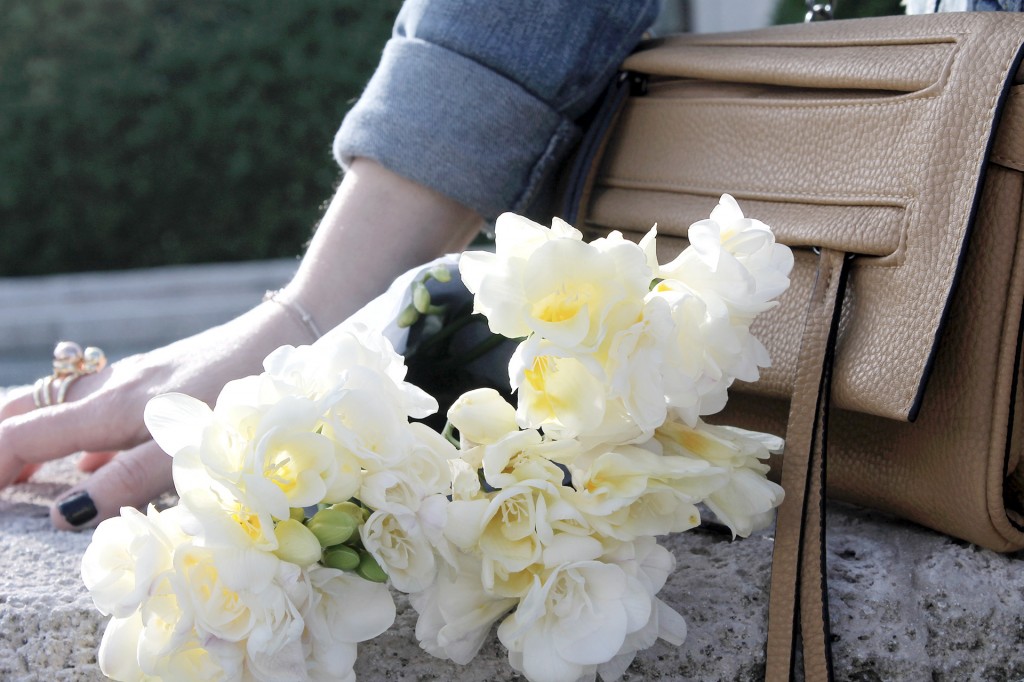 La luce del sole che filtra dalla persiana mi preannuncia che sarà un'altra giornata di primavera ormai inoltrata.
Mi alzo con lo spirito giusto di chi ha voglia di una buona colazione e di uscire presto per passaggiare, godermi la mattinata e comprare un piccolo mazzolino di fresie bianche da portare a casa per decorare il tavolo della cucina.
Voglia di gambe scoperte, di abiti leggeri e nuances di primavera come per il total look Promod, perfetto per giornate come queste.
Il rosa pallido su cui si posano i fiorellini per l'abito leggero e romantico, la mini giacca di jeans per il tocco sporty chic, la mini bag cammello con doppia zip per inserire anche le piccole cose e i sandali in tono con tacco quadrato per girare in città con comodità e stile rendono l'intero outfit femminile, fresco e delicato.
Gambe al sole e fresie acquistate….obiettivo della giornata raggiunto!
The sunlight filtering through the Persian promise me that will be another spring day. I get up in the right spirit of those who want a good breakfast and heading out early to walk, to enjoy the morning and to buy a small bouquet of white freesias to take home to decorate the kitchen table. Desire to bare legs, light clothing and nuances of spring as for the total look Promod, perfect for days like these. The pale pink and the flowers on this dress light and romantic, the mini denim jacket for sporty chic touch, the mini bag with double zip to put inside even the little things and sandals in tone with square heels to walk in cities with comfort and style make the whole outfit feminine, fresh and delicate. Legs in the sun and freesias purchased …. goal of the day reached!
I'M WEARING : Total Look Promod – Jewelry Bijou Brigitte