Piazza Andrea Pazienza: fumetti ed un look sportivo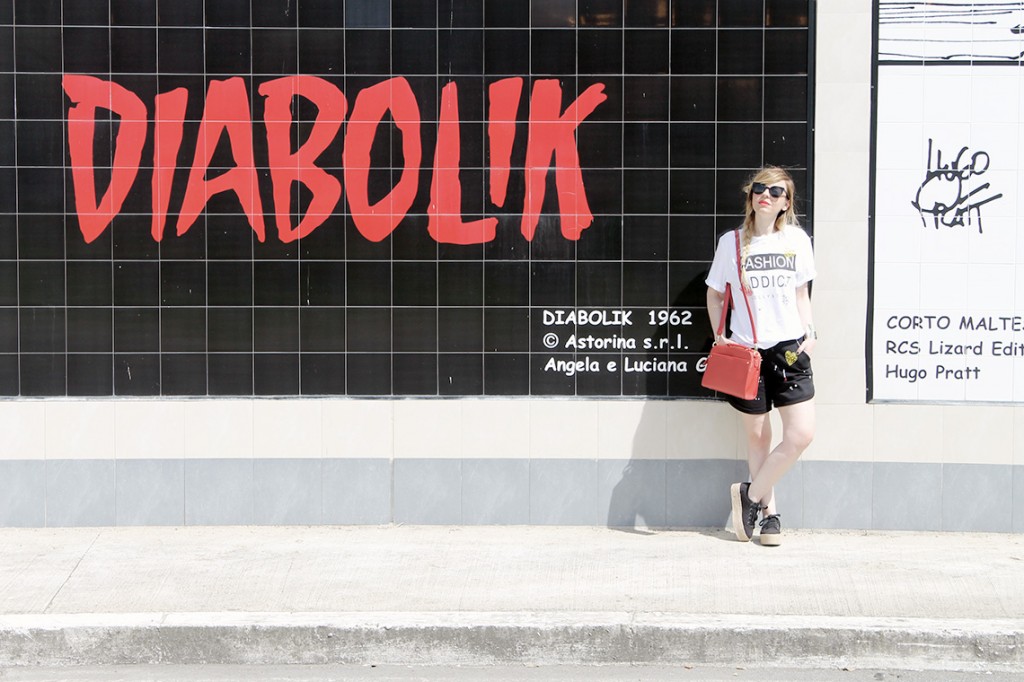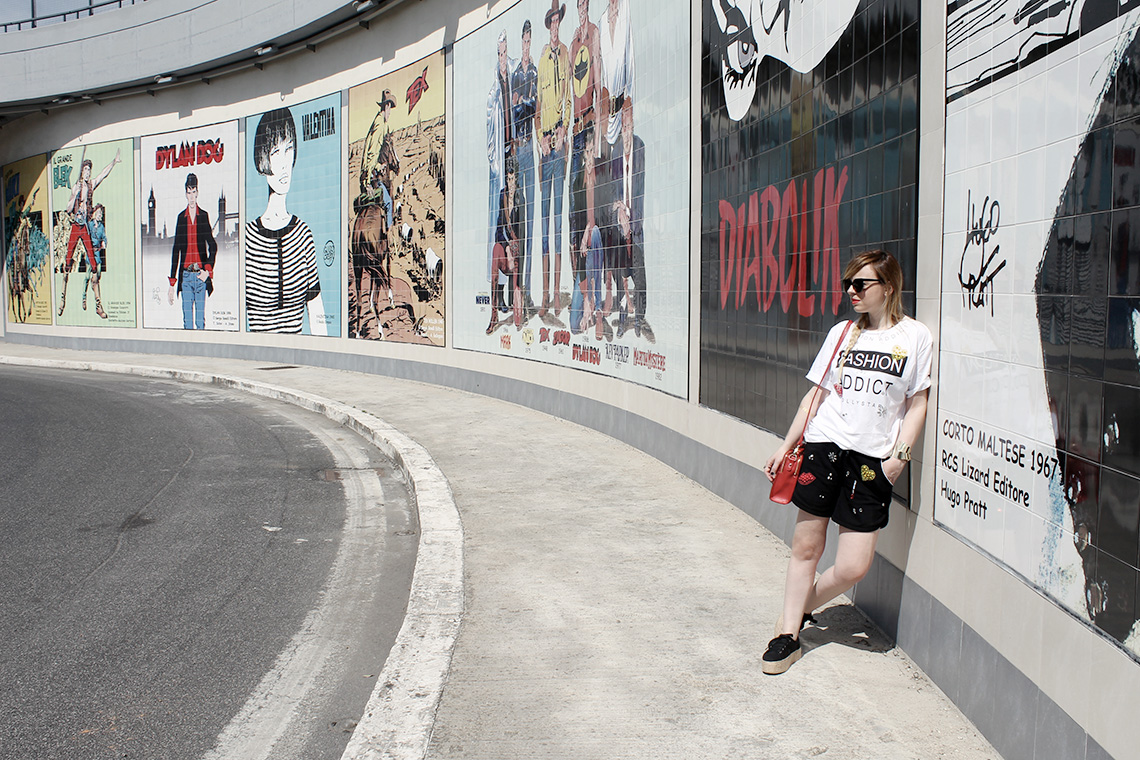 Solitamente il look sportivo può richiamare la classica tuta da ginnastica e sembrare perciò contrario al buon gusto nel vestirsi.
Per fortuna sempre più spesso tanti brand celebri o meno conosciuti dimostrano l'esatto contrario, aggiungendo ai caratteri tipici dell'abbigliamento sportivo tanti dettagli glamour e chic.
E approfittando della settimana da bollino rosso non mi sono lasciata scappare l'occasione di uscire con un total look sportivo e grintoso firmato Lollystar.
Finalmente gambe scoperte con gli shorts in cotone felpato e dettagli preziosi abbinata ad una tshirt ampia e con scritta "Fashion Addict" in evidenza, che dona al look originalità e freschezza.
Ciò conferma che si può essere sportive e comode non dimenticando la cura del dettaglio ed il tocco fashion.
Pretesto per indossare gli abiti Lollystar è stata la scoperta della Piazza Andrea Pazienza nella capitale.
La piazza, dedicata al famoso fumettista italiano è rivestita di gigantografie dedicate ad alcune sue opere insieme a quelle di altri grandi fumettisti.
Gli eroi più amati del fumetto italiano, Tex Willer, Diabolik, Corto Maltese, Valentina, Lupo Alberto, Cocco Bill, Dylan Dog, la Pimpa e le Winx sono solo alcuni dei nomi che ricoprono le pareti della piazza attraverso 24 pannelli mosaicati in gres porcellanato con fotoceramica.
Una piazza che diventa come una stanza a cielo aperto dedicata al fantastico mondo dei fumetti.
Usually the sporty look can recall the classic tracksuit and seem so contrary to good taste in dressing. Fortunately, many famous brands or lesser known shows the exact opposite, adding many details glamorous and chic to the typical features of sportswear . And taking advantage of the really hot week I did not let slip the opportunity to go out with a total look sporty and aggressive signed Lollystar. Finally bare legs with shorts in brushed cotton and precious details combined with a t-shirt with a wide that says "Fashion Addict ", which gives the look originality and freshness. This confirms that you can be comfortable in sporty look and not forgetting the attention to detail and a touch of fashion. Excuse to wear the clothes Lollystar was the discovery of Piazza Andrea Pazienza in Rome. The square, named after the famous Italian cartoonist is covered with murals dedicated to some of his works along with those of other great cartoonists. The heroes most loved italian comics, Tex Willer, Diabolik, Corto Maltese, Valentina, Lupo Alberto, Cocco Bill, Dylan Dog, the Pimpa and the Winx are just some of the names that cover the walls of the square through 24 panels mosaic porcelain stoneware with fotoceramica. A square that becomes as an outdoor room dedicated to the wonderful world of comics.
I'M WEARING : Total look Lollystar – Sneakers Pull&Bear – Mini bag Accessorize – Bracelet Kiabi