Deep blue sea: look da vacanza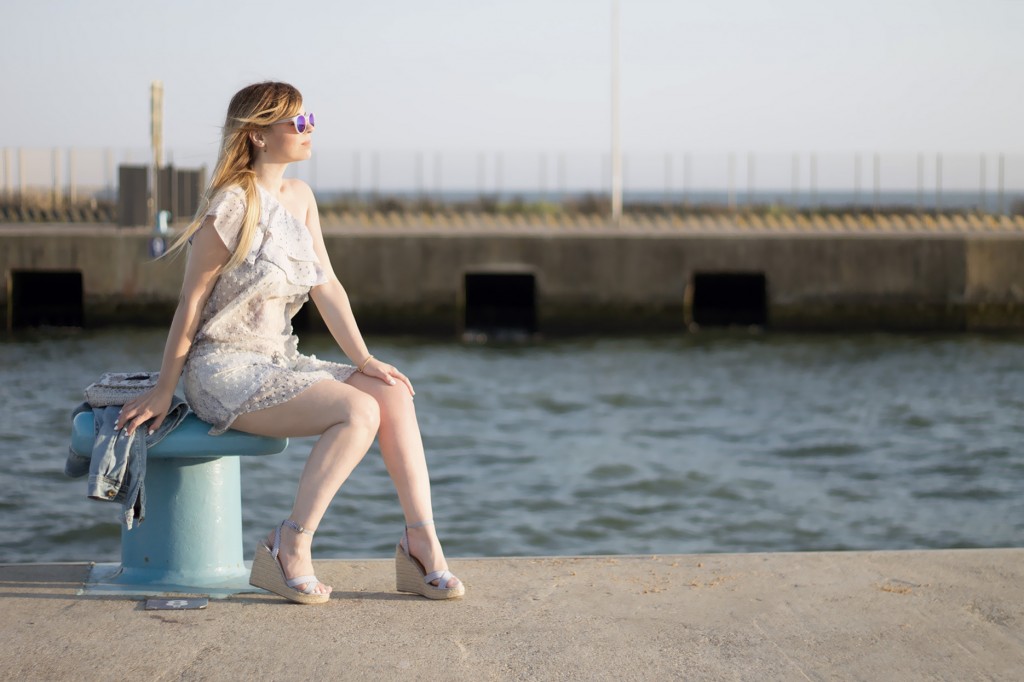 Inizio Agosto con la consapevolezza che le vacanze non sono più un miraggio. Ultimi giorni di lavoro e poi anche per me arriverà il momento di staccare la spina, di allentare i soliti e frenetici ritmi della vita quotidiana per dedicarmi un pò a me stessa, agli affetti e magari anche per pensare e valutare con calma nuove idee e progetti per il blog, a cui ormai dedico con amore la maggior parte del mio tempo.
Agosto è un mese, nel bene e nel male, molto particolare per me; è il mese del mio compleanno, di belli e brutti ricordi, ma anche un mese di transito dove ci allontana dal solito tram tram per trovare nuove ispirazioni, facendo un viaggio o semplicemente cose che in altri periodi dell'anno ci verrebbe difficile realizzare. Non ho programmi specifici per quest'estate, l'unica cosa che so è che cercherò di trarre esclusivamente energia positiva da tutto ciò che mi si presenterà.
Nel frattempo con il primo outfit d'agosto mi immergo già nello spirito vacanziero. Una passeggiata al porto mi ha ispirata per questo look da vacanza firmato Giorgia&Johns. L'azzurro del mare lo ritrovo nel mini abito schizzato e monospalla con ruches in evidenza, nella mini clutch in tessuto d'ispirazione etnica, nelle zeppe in corda con piccole stripes e negli occhiali specchiati blu profondo.
In estate si ha voglia di indossare abiti meno impegnativi, che siano comodi ma di tendenza allo stesso tempo; questo trovo sia un tipico look da vacanza che riesce a racchiudere entrambi i desideri, semplicità e tocco glamour. Adatto per un'aperitivo al tramonto, per una cena all'aperto o anche per una notte fuori nell'agognata meta estiva.
Piccola chicca dell'outfit il bracciale Bisceglie 1896, celebre azienda orafa crotonese, che crea gioielli su misura, fatti a mano e personalizzabili; per il mio bracciale ho scelto uno charm raffigurante la bicicletta, simbolo di leggerezza e spensieratezza.
Early August with the understanding that the holidays are no longer a mirage. Last day of work and then for me it's time to pull out the plug, loosen the usual hectic pace of everyday life and to devote a little to myself, affection and maybe also to think and calmly assess new ideas and projects for the blog, which now i dedicate with love most of my time. August is a month very special for me; It is the month of my birthday, of good and bad memories, but also a month where transit takes us away from the usual hustle to find new inspirations, making a trip or simply things that at other times of the year there would be difficult to achieve. I do not have specific programs for this summer, the only thing I know is that I will try to take only positive energy. Meanwhile, with the first outfit of August I dive into the holiday spirit. A walk to the port has inspired me this holiday look signed by Giorgia&Johns. I find the blue of the sea in the shoulder mini dress with ruffles and splashed out in mini clutch ethnic-inspired, in rope wedges with small stripes and the deep blue mirrored glasses. In the summer you want to wear something less demanding, which are comfortable but trendy at the same time; I find this is a typical look for a holiday that can encompass both desires, simplicity and glamor touch. Suitable for a drink at sunset, for an outdoor dinner or even for a night out in your summer destination. A small gem is the bracelet by Bisceglie 1896, a crotonese famous jewelery company, which creates custom jewelry, handmade and customizable; for my charm bracelet I chose one depicting the bicycle, symbol of lightness and lightheartedness.
I'M WEARING: Total Look Giorgia&Johns – Bracelet Bisceglie 1896