French touch: come abbinare la felpa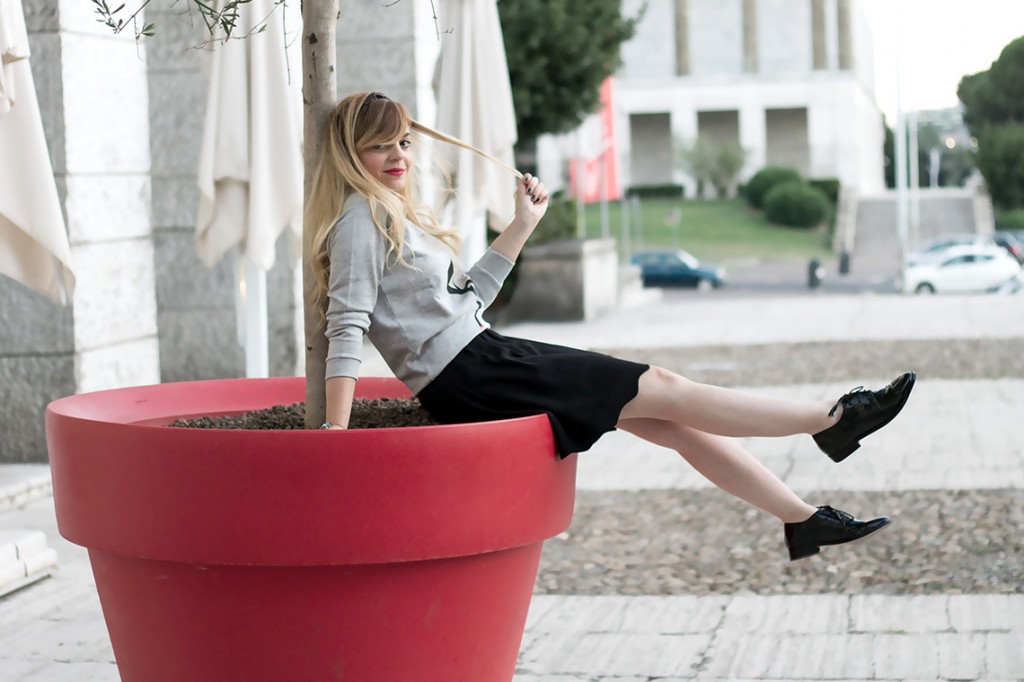 Il bello di rientrare a casa dopo le vacanze sta nello scoprire le nuove collezioni dei brand che ami tanto indossare e che andranno a riempire l'armadio durante il cambio di stagione.
Un po' alla volta si fa spazio a camice, maglioncini, giacche, pantaloni e felpe.
Si, felpe.. proprio quelle che durante l'adolescenza odiavamo perché ci facevano sentire goffe ma che dovevamo avere "a tutti i costi".
La felpa continua ad essere di tendenza di stagione in stagione; ha saputo rinnovarsi, è facile da portare ed è un capo di abbigliamento da indossare per andare in ufficio, per una cena con le amiche o per del sano shopping autunnale.
Ma come abbinare la felpa per non sbagliare?
Ho approfittato della collaborazione tra Promod Boutique Française e l'illustratore francese Clément Dezelus, che per l'occasione ha creato una capsule collection inedita dal delizioso "french touch", per indossare la felpa grigia con stampa glamour ispirata alla sofisticata donna parigina.
Chic e discreta ho abbinato la felpa all'originale gonna in crêpe nera dai bordi a forma di petalo e alle stringate in vernice che donano al total look Promod il giusto fascino retrò maschile/femminile tipico della romantica Parigi.
Ecco uno spunto per come abbinare la felpa con semplicità ed eleganza.
Con ancora il calore del sole sulla pelle sento lentamente avvicinarsi il profumo d'autunno fatto di tisane, biscottini al burro, candele profumate, copertine e serie televisive.
Ok, forse sto correndo un po' troppo.
The great thing about coming home after the holidays is to discover the new collections of the brands that you love so much and that will fill the closet during the change of season. A bit 'at a time you make space for shirts, sweaters, jackets, pants and sweatshirts. Yes, sweatshirts… just those you hated during your adolescence because they made you feel awkward but we had to have "at all costs". The sweatshirt continues to be trendy every season; has been renewed, it is easy to carry and is a piece of clothing to wear for office, for a dinner with friends or an 1healthy shopping session. But how to match the sweatshirt to avoid mistakes? I took advantage of the collaboration between Promod Boutique Française and the French illustrator Clément Dezelus, which for the occasion has created a capsule collection with unpublished delicious "French touch", to wear a gray sweatshirt with prints inspired by the glamorous sophisticated Parisian woman. Chic and discreet I paired the sweatshirt with an original black crepe skirt with edges shaped like petals and laced paint that give the total look Promod the right retro charm male / female typical of romantic Paris. Here's an idea for how to match the sweatshirt with simplicity and elegance. Yet with the warmth of the sun on the skin feel slowly approaching the scent of autumn made of herbal tea, butter biscuits, scented candles, covers and television shows. Ok, maybe I'm running a little too much.
I'M WEARING Total Look Promod