Folk chic: come vestirsi anni 70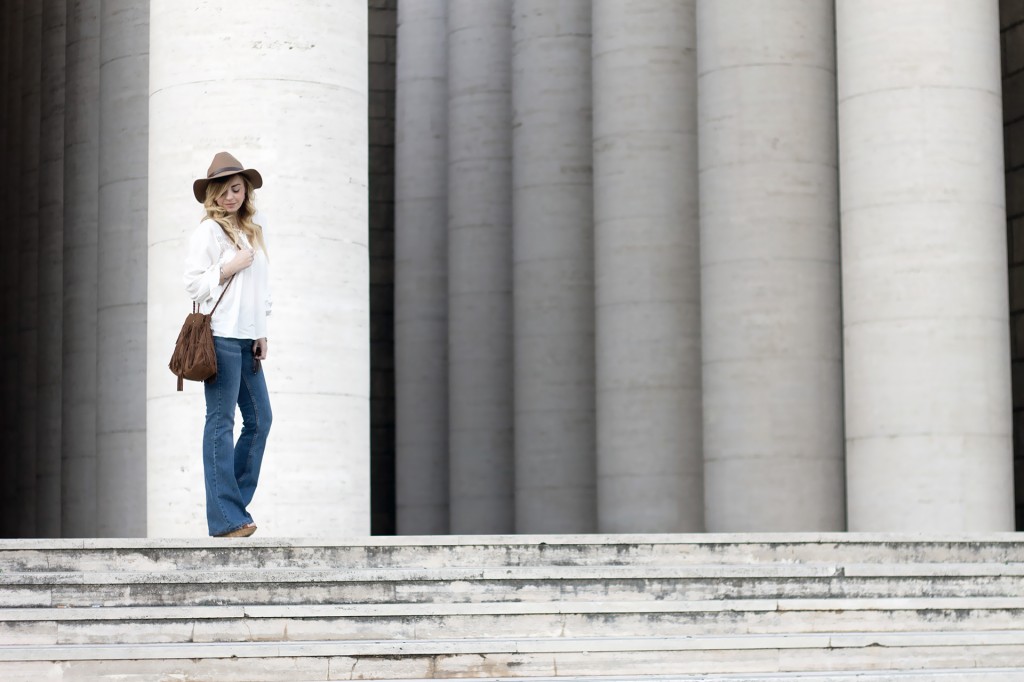 L'estate 2015 ormai archiviata ha fatto da cavia a parecchie tendenze che si stanno rivelando vincenti anche in questo inizio di autunno e che sicuramente vedranno il loro boom nei prossimi mesi invernali.
Uno di questi trend che vi consiglio assolutamente e che da sempre è uno dei miei preferiti è il ritorno degli Anni 70. Tanti designer hanno scelto di far sfilare sulle passerelle capi ispirati a questo trend nelle loro nuove proposte e che piaccia o meno, possedere un accessorio, un paio di scarpe, una borsa o un abito dal sapore Seventies sembra essere diventata la vera mania da it girl.
In questa vera e propria ondata folk chic vestirsi Anni 70 non è poi così complicato; già nei mesi scorsi vi avevo proposto un look estivo di ispirazione '70 (VEDI QUI !!) e non riuscendo a stare lontana dai miei jeans a zampa qui li ripropongo con toni nettamente più autunnali. Per un look folk chic senza troppi eccessi i jeans flare, a zampa, sono essenziali e qui abbinati ad una blusa morbida e ricamata… l'avrete sicuramente riconosciuta visto che è la camicia H&M, protagonista dell'ultimo spot del brand svedese per la collezione autunnale Fall in Love. Borsa secchiello in pelle scamosciata e frange, zeppe e cappello tutto sui toni del marrone, i miei bracciali argento preferiti e un make up semplice con colori caldi completano un tipico outfit Seventies per affrontare questo inizio autunno e se il vento inizia a soffiare forte …un gilet fur faux panna, beige o marrone.
In questo modo vestirsi Anni 70, senza strafare e giocando con pochi accessori, potrà risultare più piacevole anche alle più diffidenti.
Summer 2015 now archived acted as guinea pig to several trends that are proving successful in the beginning of autumn and that surely will see their boom in the coming winter months. One of these trends that I'll recommend, and that has always been one of my favorites is the return of the 70s, many designers have chosen to be on the catwalks garments inspired by this trend in their new proposals and that have a accessory, a pair of shoes, a bag or a dress from the Seventies flavor seems to have become the craze as it girl. Wearing a  folk chic dress from the 70's is not that complicated; in recent months I had already proposed a summer look inspired '70 (SEE HERE !!) and i couldn't stay away from my flared jeans and I will propose again with more autumnal tones. To look chic folk without too much excess the jeans flare are essential and here they are combined with a soft embroidered blouse… the blouse by H & M protagonist of the last spot for the Swedish brand for the fall collection. Bucket bag in suede with fringes, wedges and hat all in shades of brown, my favorite silver bracelets and a makeup simple with warm colors complement a typical outfit from the Seventies to wear in this early fall, and if the wind starts to blow hard .. .a faux fur vest cream, beige or brown. In this way dressing 70s, without overdoing it and playing with a few accessories, may be more pleasing.
I'M WEARING: Top H&M – Jeans Stradivarius – Bag H&M – Hat H&M – Dorothy Bracelet S'Agapò – Word Bracelet Bisceglie 1896