Bomber jacket: come abbinare il bomber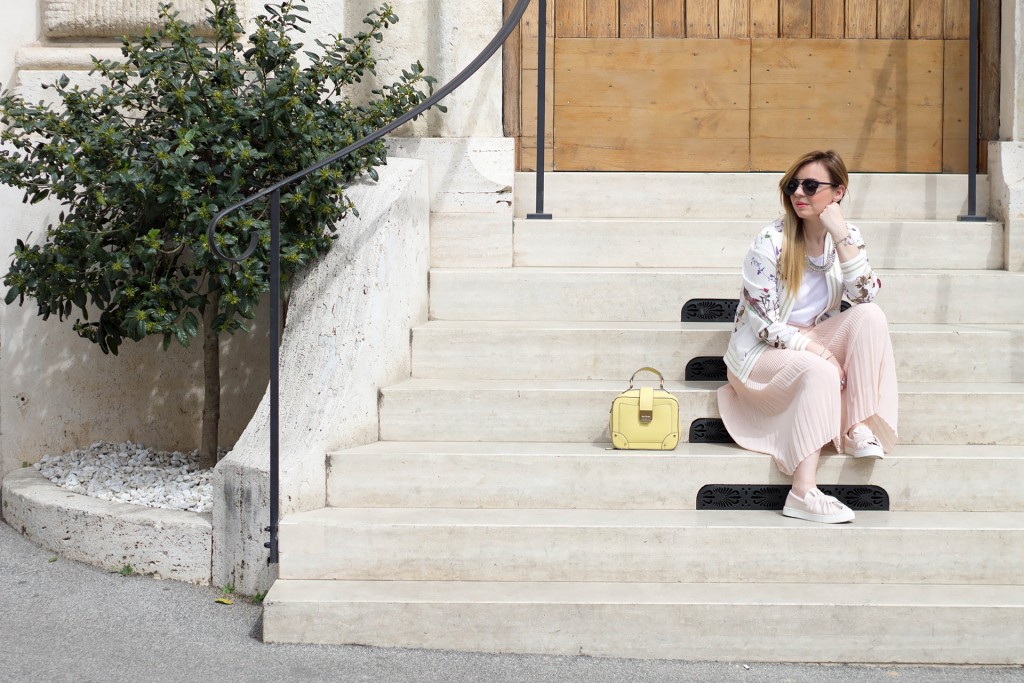 Aprile o Giugno? Questo primo weekend del mese sarà ricordato come uno dei più caldi di questo inizio di primavera 2016 ed io ne ho approfittato per archiviare definitivamente calze e cappotti pesanti e per fare posto a colori chiari, tessuti leggeri e stampe allegre. Un capo che proprio non deve mancare nel nostro armadio, versatile e facilmente adattabile a diverse occasioni è il bomber.
Tra le tendenze moda primavera/estate 2016 il bomber risulta essere la giacca del momento che dopo anni di buio ritrova la sua importanza nel mondo del fashion, pronto a sostituire il chiodo o il classico giubbino. Alzi la mano chi durante gli anni '90 non ha indossato almeno una volta un bomber? Pratico e casual era utilizzato da donne e uomini sopratutto per il tempo libero o per la scuola. Per questa stagione la forma a uovo che si stringe poco sopra i fianchi, grazie a una fascia elasticizzata a micro costine, ripresa anche sui polsini e attorno al collo è rimasta è invariata; cambia invece la scelta dei tessuti, dei colori, dei pattern e delle stampe. Accanto al classico bomber da aviatore verde militare che può piacere alle fashioniste più "strong" sono i toni pastello a predominare, rosa e celeste su tutti.
Ma come abbinare il bomber? Oltre al classico jeans che può essere flare o skinny, la tendenza 2016 lo vuole indossato con la gonna plissè, a pieghe, come ho fatto io. Una basic t-shirt bianca, slip on con fiocco (altro must di stagione LEGGI QUI!) , una delicata gonna midi plissè rosa, il bomber in seta senza zip e con stampa orientale insieme alla mini bag gialla a forma di valigetta e ad alcuni gioielli di tendenza creano un look sporty chic da giorno sui toni del rosa davvero originale.
Se nel vostro baule del "prima o poi tornerà di moda" giace un bomber jacket andate a ripescarlo altrimenti correte al primo store di fiducia e scegliete il vostro modello preferito…vi terrà compagnia per tutta l'estate!
April or June? This first weekend of the month will be remembered as one of the hottest of this spring 2016 and I took the opportunity to permanently store socks and heavy coats and to make way for light colors, light fabrics and cheerful prints. A dress who really must not miss in our closet, versatile and easily adaptable to different occasions is the bomber. Among the trends fashion spring / summer 2016 the bomber turns out to be the jacket of the moment that after years of darkness finds its importance in the world of fashion, ready to replace the leather or the classic jacket. Raise your hand if during the 90s has not worn at least once a bomber? Practical and casual was used by women and men especially for leisure or for school. This season the egg shape that narrows slightly above the hips, with an elastic band, echoed at the cuffs and around the neck has remained unchanged; instead changes the choice of fabrics, colors, patterns and prints. Next to the classic aviator bomber from military green to appeal to fashionistas as "strong" are the pastel tones to predominate, pink and blue over all. But how to match the bomber? In addition to the classic jeans that can be flare or skinny, the trend in 2016 wants it worn with pleated skirt, pleated, like I did. A basic white t-shirt, slip on with bow (another must for the season READ HERE!), A delicate pink pleated midi skirt, silk bomber jacket without zip and Eastern printing together with mini yellow bag-shaped case and to some trendy jewelry create a sporty chic day look on truly original shades of pink. If in your trunk of "sooner or later will come back in fashion" lies a bomber jacket go fish it out otherwise run to the first store and choose your favorite model … will keep you company all summer!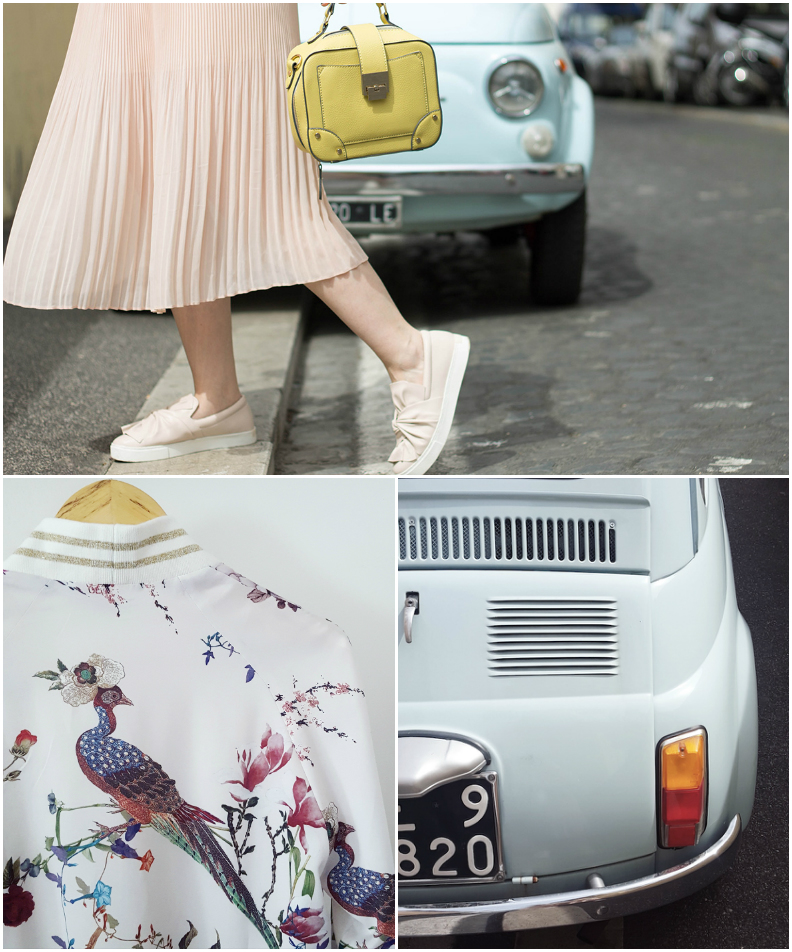 I'M WEARING: Total look Stradivarius – Accessories Accessorize – Bracelet S'Agapò