Faux leather skirt: come abbinare la gonna di pelle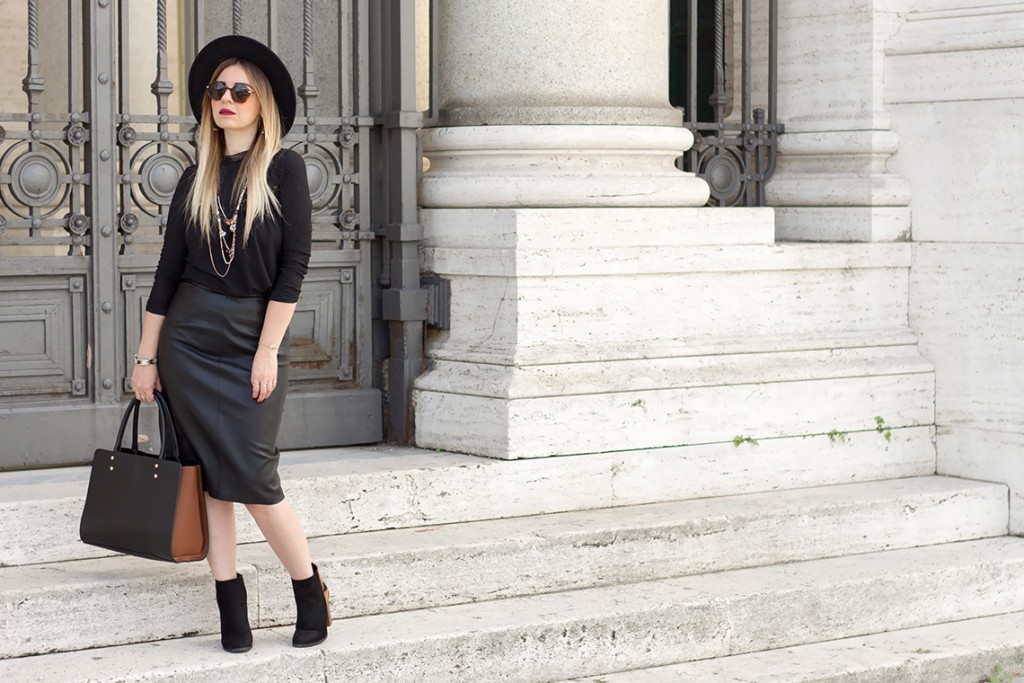 Messi da parte abiti e scarpe estive si inizia a pensare solo alle tendenze per l'autunno inverno 2016 2017 e ai tanti capi che indosseremo nei prossimi mesi. A cominciare da un must intramontabile che anche quest'anno si riconferma piacevolmente, la gonna di pelle. Mini, midi o maxi, da quella larga alla mini dritta o a palloncino ce n'è per tutte ma la vera tendenza la vuole stretta a tubino sotto al ginocchio,  così è il capo ideale per rendere originale tanti outfit; piace perchè non conosce stagioni, ha un tessuto diverso da tutte le altre, è costantemente trendy e dona un'allure sensuale e femminile. Come abbinare la gonna di pelle in inverno non è molto difficile, ci sono tante combinazioni diverse da scegliere, con una felpa, un maglione, una camicia da uomo, una semplice t-shirt bianca con un blazer, basta non esagerare, frenarsi sulla scelta di accessori troppo vistosi e indossarla solo in particolari occasioni.
Ad esempio scegliere un total look black con un modello pencil ecopelle a vita alta e con spacco dietro da abbinare ad una blusa in pizzo stile bohémien rende attraenti ed estremamente eleganti. Gli stivaletti alti effetto scamosciato color block con inserti stile patchwork, rubati agli anni'70, hanno il tacco largo e comodo da portare anche per tante ore, mentre l'ampia borsa e i gioielli riprendono i colori del look con discrezione per un risultato davvero originale e ricco di stile.
Inoltre scegliere di indossare una pencil skirt, una gonna di pelle a vita alta assottiglia il punto vita, possiede un'inaspettato "effetto guaina" dove serve e regala curve esplosive e mozzafiato.
Cosa chiedere di più ad un capo evergreen come questo?
Set aside clothes and summer shoes you start to think only about the trends for autumn-winter 2016 2017 and to the many dress you will wear in the next few months. Begin with a must timeless that this year is pleasantly reappointment, the leather skirt. Mini, midi or maxi, from large to mini straight or balloon there is something for everyone but the real trend want it to be narrow sheath dress below the knee, so it's the ideal garment to create many original outfits; I like it because it knows no seasons, has a different fabric from all others, is constantly trendy and gives sensual and feminine allure. How to match the leather skirt in winter is not very difficult, there are so many different combinations to choose from, with a sweatshirt, a sweater, a man's shirt, a plain white t-shirt with a blazer, just do not overdo it, restrain the choice for accessories too showy and wear it only on special occasions. For example choose a total look with a black pencil faux leather model with a high waist and back slit to be combined with a blouse in a bohemian style lace makes it attractive and extremely elegant. High suede boots with color block with patchwork style inserts, stolen by the 70s, and with a  wide and comfortable heel, while the large handbag and jewelry reflect the colors of the look discreetly for a truly original and stylish result. Also choose to wear a pencil skirt, a leather skirt with a high waist that will thin your waist, it has an unexpected "girdle effect" where needed and gives explosive and breathtaking curves. What ask more from something so evergreen like this?
I'M WEARING: Total Look Kiabi