Coachella inspiration: look da festival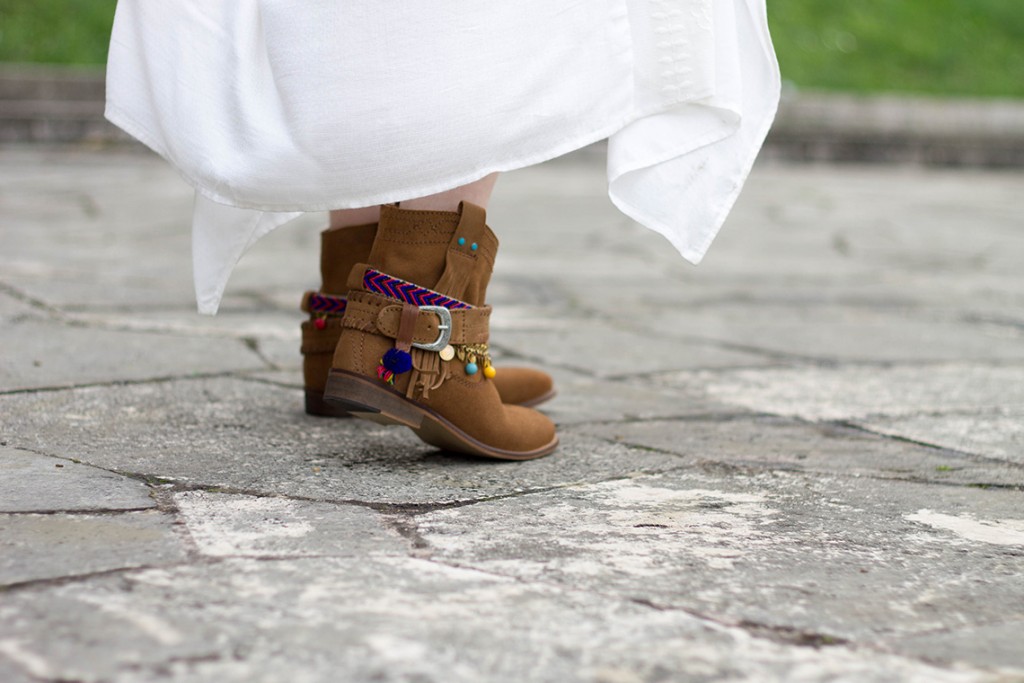 Marzo è iniziato con un'outfit hippie da giorno e termina sulla scia Seventies con un look da festival da cui prendere ispirazione, in vista della stagione estiva ricca di concerti live in giro per l'Italia e all'estero.
Anche quest'anno si riconfermano lo stile folk, boho, gipsy, hippie, rock e pop in un mix & match perfetto. Il Coachella, insieme ad altri celebri eventi sparsi anche in Europa come il Primavera Sound di Barcellona e il Werchter di Leuven in Belgio, non sono più ormai dei semplici festival musicali estivi ma sono diventati il pretesto per andare a sbirciare le tendenze, in fatto di look da concerto, che ci accompagneranno per tutta l'estate a venire, una sorta di Fashion Week con protagonista la musica.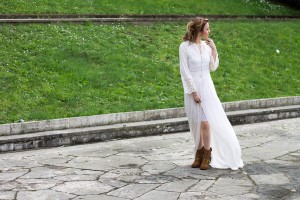 Un lungo abito bianco ricamato, una sorta di camicia da notte dal sapore retrò è al centro del mio outfit da concerto estivo; il cotone leggero scivola sulle maniche midi, sui dettagli macramè fino giù ai piedi dove gli stivaletti Naskapi della nuova collezione Gioseppo, realizzati in pelle ed impreziositi da inserti di perline colorate, pom pom e charms ricreano perfettamente lo stile hippie-chic per l'estate 2016. Comodità e libertà di movimento per spostarsi da un palco all'altro durante i numerosi concerti, uniti alla semplicità e al glamour, fanno sì che questo sia il look da festival ideale, da mattina a notte inoltrata.
Vi ricordo che c'è ancora qualche giorno a disposizione per tentare di portarsi a casa gli stivaletti Gioseppo come i miei, attraverso il concorso Glamour Shop&Share; basta andare sul sito Glamour Italia nella sezione Shop&Share, registrarsi e provare a vincere uno degli imperdibili Must Have per la primavera estate 2016.
March began with a hippie outfits for the daytime and ends on the Seventies with the look for a festival to inspire you, in view of the summer season full of live concerts around Italy and abroad. Also this year are reconfirmed the folk style, boho, gypsy, hippie, rock and pop in a perfect mix & match. Coachella, along with other famous scattered events in Europe such as Primavera Sound in Barcelona and the Werchter Leuven in Belgium, are now no longer the simple summer music festivals but have become the pretext for going to peek trends, in terms of look from the concert, which will accompany us throughout the summer to come, a kind of Fashion Week starring the music. A long white embroidered dress, a sort of nightgown retro flavor is the focus of my outfit for summer concerts; The lightweight cotton with midi sleeves, macramé details until the foot where the boots of the new Naskapi Gioseppo collection, made of leather and embellished with inserts of colored beads, pom pom and charms perfectly recreate the hippie-chic style for summer 2016. Comfort and freedom of movement to move from one stage to the other during the many concerts, combined with the simplicity and glamour, mean that this is the ideal festival look, from morning to late night. I remind you that there's still a few days available for groped to take home the Gioseppo boots like mine, through the competition Glamour Shop & Share; just go to the site in Italian Glamour Shop & Share section, register and try to win one of the unmissable must-have for spring summer 2016.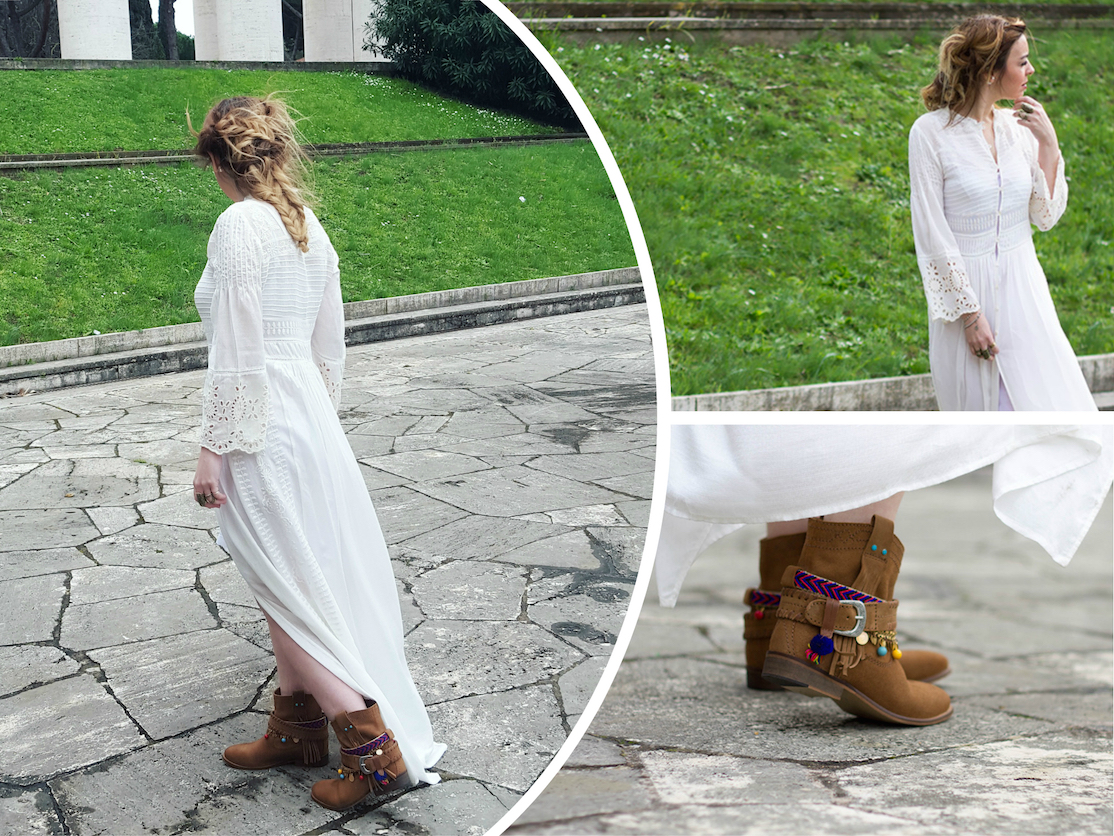 I'M WEARING: Dress Zara – Shoes Gioseppo – Hairstyle Informale Hair Salon&Products