Etno chic: look etnico da giorno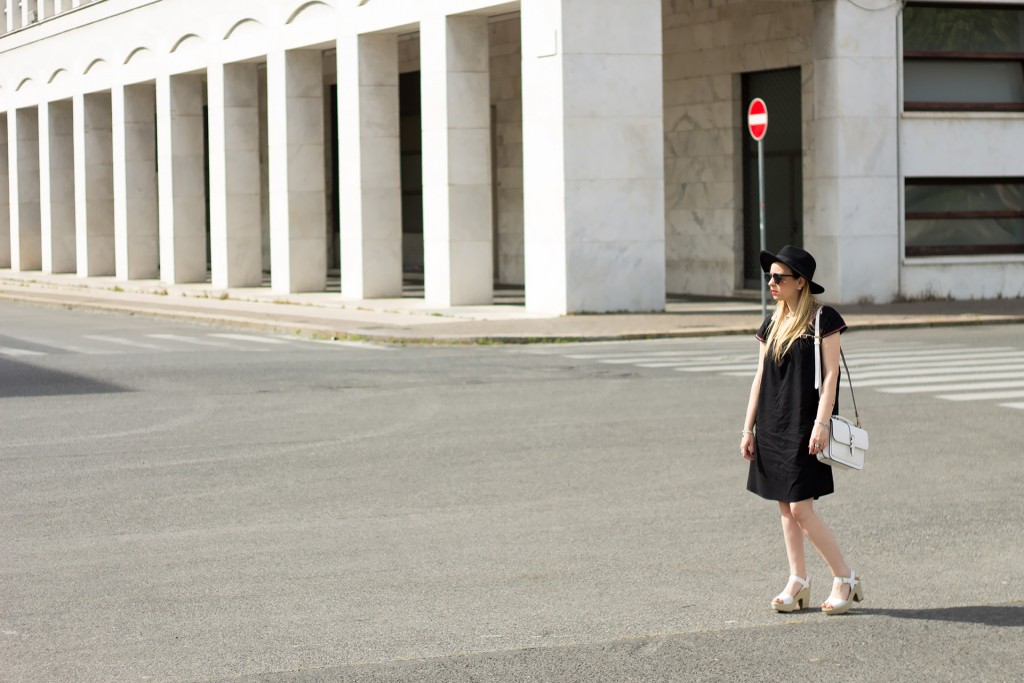 Nuovo mese, nuovo look "I Want It" con Kiabi. Dopo la salopette proposta lo scorso mese (VEDI POST QUI!), questa volta sono i motivi etnici di un delizioso abito da giorno a suggerirvi una tendenza da tenere sott'occhio per i prossimi mesi.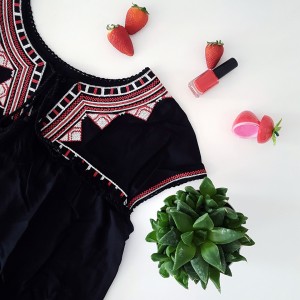 Insieme a quella floreale, le stampe, per questa primavera e per la vicina estate, ad essere messe in evidenza sono quelle tribali ed etniche. Ricami e decori che richiamano atmosfere lontane, dall'Africa al profondo Oriente, spuntano su abiti, gonne, maglie ed anche accessori donando un'impronta forte che danno carattere a interi outfit.
Per creare un look etnico senza strafare basta non eccedere con miscugli di disegni e colori; ad esempio partendo da un semplice abito fluido nero con ricami etnici e pompon sul seno a cui abbinare un paio di sandali con plateau in paglia e una mini bag bianca, un cappello stile borsalino in feltro con fascia larga e completando, magari, con dei temporary tattoo, come ho fatto io, in tinta con i colori del look si ha un risultato etno chic da giorno davvero sofisticato, quasi da diva in vacanza. Il disegno dell'abito, dai colori forti e vivaci, "farà il look" mentre gli accessori creeranno equilibrio in maniera discreta ed elegante.
Ricordo a tutte voi che la collezione "I Want It" di Kiabi è una linea in edizione limitata disponibile negli store e online ogni mese ma per breve tempo e che ha la prerogativa di non superare i 50,00 euro proponendo capi ed accessori dettati dalle ultime tendenze, quindi se lo stile etnico fa parte di voi vi consiglio di recarvi allo store più vicino o di fare shopping online comodamente da casa prima della fine di aprile!
New month, new look "I Want It" with Kiabi. After the salopette proposal last month (SEE POST HERE!), This timei choose ethnic motifs of a lovely day dress to suggest a trend for the coming months. Along with that floral prints this spring and the nearby summer will be highlighted by tribal and ethnic. Embroidery and decorations that recall distant atmospheres, from Africa to the deep East sprout on dresses, skirts, sweaters and accessories also giving a strong impression that give character to the whole outfit. To create an ethnic look without overdoing it just does not exceed a mixture of designs and colors; for example from a simple black dress with fluid ethnic embroidery and pompoms on the breast I combine a pair of straw sandals with plateau and a white mini bag, a felt fedora style hat with a wide band and completing it with the temporary tattoo, like I did, to match the colors of the look you have an ethno chic result of really sophisticated day, nearly diva on vacation. The gown design, strong and vivid colors, "will make the look" while the accessories will create balance with discreet and elegant. I remind all of you that the collection "I Want It" Kiabi is a limited edition line available in stores and online every month but for a short time and has the prerogative not to exceed 50.00 euro proposing garments and accessories dictated by latest trends, so if the ethnic style is part of you I suggest you to go to the store near you or shop online from home before the end of April!