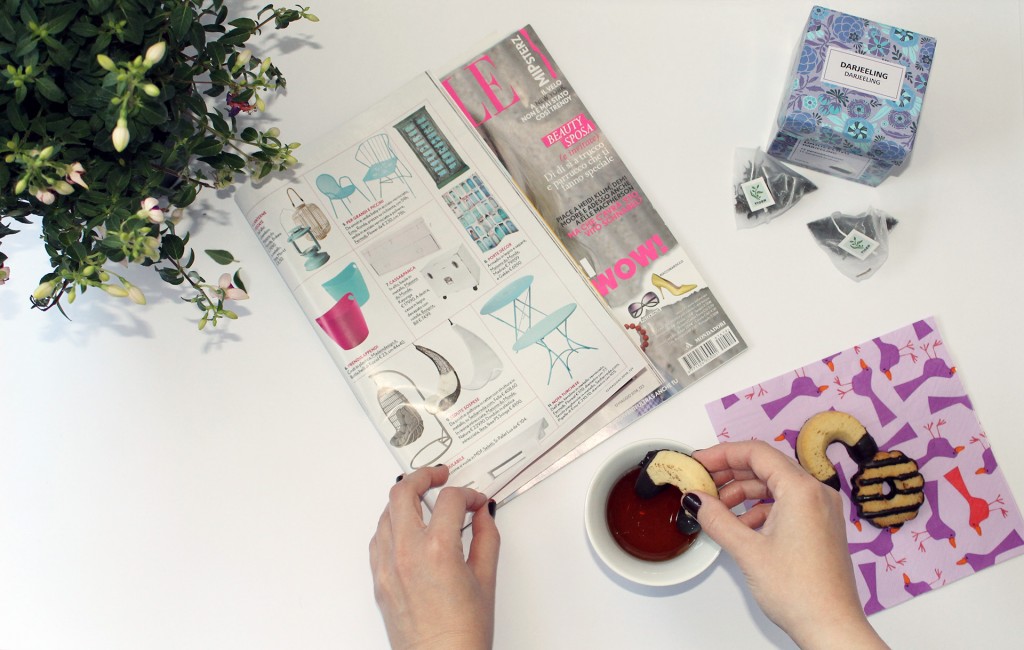 "Nella vita ci sono poche ore più piacevoli dell'ora dedicata alla cerimonia del tè pomeridiano."
Potermi dedicare qualche ora di relax casalingo vuol dire aggiornarmi sugli ultimi trend con un buon magazine, per ispirarmi a nuovi outfit e lifestyle, e seguire con tranquillità il più antico dei rituali: il tè del pomeriggio.
Scegliere la varietà migliore, il pasticcino da abbinargli, la giusta tazza, attendere i tempi di infusione e gustare il sapore avvolgente di un buon tè mentre si svolgono le attività che più ci piacciono .
Tiger, leader danese dello shopping per la casa, oltre a vendere oggettistica e completi d'arredo, ha una vasta scelta di tè nel reparto food.
Per il mio "Ritual tea" ho scelto il Radiant Orchid, colore simbolo di questa stagione.
Quindi ampio spazio a tutte le gradazioni del lilla nella scelta della tazza, dei tovagliolini, del filtro, ma sopratutto del tè.
Il Darjeeling soprannominato "lo Champagne dei tè" è tradizionalmente considerato il più pregiato dei tè neri, soprattutto in Gran Bretagna.
Un sorso di tè, un biscottino al burro ricoperto al cioccolato e il relax è garantito.
Dedicate some time to relax at home means update me on the latest trends with a good magazine for inspiration for new outfits and lifestyle, and follow with ease the most ancient of rituals: the afternoon tea. Choose the best variety, the right pastry, the right cup, wait for the infusion and enjoy the taste of a good cup of tea while enveloping the activities that we like. Tiger, Danish leader for household items, in addition to selling home furniture, has a wide selection of tea in the food department. For my "Ritual tea" I chose the Radiant Orchid, the color of this season. All shades of lilac for the cup, napkins, filter, and for the tea. The Darjeeling nicknamed " the champagne of teas" is traditionally considered the finest black tea, especially in Britain. A sip of tea, a biscuit covered with chocolate and relax is guaranteed.